I'm a sucker for any hotel with decent views of a busy airport, so that's why there was no other choice for me than the Hilton at Chicago O'Hare (ORD). I'm even willing to pay a premium for it, which certainly was the case in this instance. It's an expensive property.
A full review of my 2 night stay at the Hilton ORD (O'Hare) Airport Hotel
Spoiler alert: I've actually stayed at this hotel two more times since writing this review. It's location is perfect for anyone needing quick and easy access to the airport. I think you'll agree with me once you see the pics (below):
Getting to the Hilton from the O'Hare Airport
Finding this Hilton from inside the terminal at ORD was rather easy. There are signs that say "Hilton" at all exits, so just keep following them until you reach the front door. I should mention that the Hilton is accessible via two routes from the terminal:
Via an underground walkway
From outside (by simply walking across the roadway to the hotel entrance)
Either way is simple, but I do appreciate the fact that there is an indoor/underground option to avoid inclement weather outside. But if the weather is nice (as it was during my trip), it's a very nice and easy walk across the roadway.
Checking in and getting to my room
The check in desk was quite busy by the time I arrived (just after 5pm on a Saturday afternoon), and I ended up waiting about 10 minutes for the next available clerk. No worries though – the staff was very friendly and polite (as would be expected), and I had my room card keys within minutes.
Walking through the hallway on the 8th floor to my room reminded me quickly that I was not in an overly-luxurious property (the hallway decor screamed "airport hotel"), and that's not necessarily a bad thing. The only reason why I mention it is because I paid nearly $230/night for this room so I was hoping for something a bit more upscale.
The views from the room
I quickly realized the value of staying here (and the price I paid) immediately upon entering the room. The view of the airport was amazing! The floor to ceiling windows were well worth the price of admission and I knew right away that I'd be spending a lot of time in front of them watching ORD at work.
Trust me – you haven't lived until you've stood nearly naked above O'Hare Airport, watching all that mesmerizing action below from your upper floor room at the Hilton while scarfing down a $10 danish that couldn't have cost more than $0.15 to make.
I shot tons of pics and thousands of gigabytes of video from here, and I'd go as far as to say it was one of the best views I've ever had at an airport hotel. The Marriott at IAH was nice – but this Hilton was much better!
Finally, before you complain that the planes are too far to see from the room, have a look at my review of the Hilton in Terminal 4 at Heathrow Airport. You won't be complaining after seeing what that view was like.
The room
The decor of the room was nice. Not "wow" nice, but just nice – typical of a Hilton I suppose. Of all the airport Hiltons I've stayed at, I'd give the "style and design" win to the Knoxville Airport Hilton (it was nice). This one here at ORD seemed a touch dated, but it was quite comfortable nonetheless.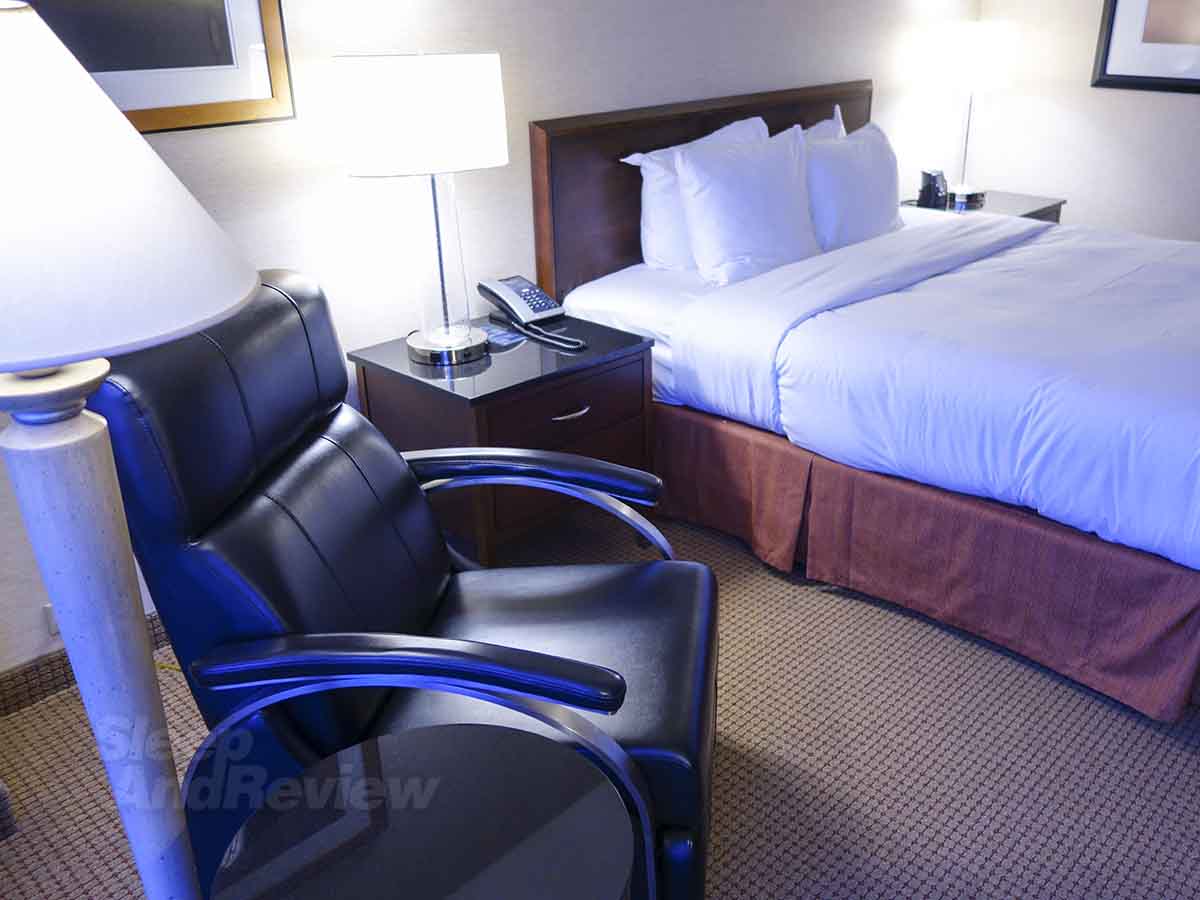 The bathroom
Room service
In-room dining options were good. The menu was extensive (and obnoxiously expensive), but I found the food to be decent.
Final thoughts
So all in all, how did I feel about paying $230/night for this room? Pretty good actually – once I saw the view.
That view is what made this experience so memorable for me, and if you want the same thing, make sure that you request a room on a higher floor (7 or above).
Without the excellent view of the airport, I definitely would't have been so happy with the cost considering there are a plethora of other good airport hotels surrounding O'Hare airport that are much cheaper. None are located as conveniently as this one of course, but it's possible to save a lot of money by choosing something just a bit farther away.