I recently went to Europe, and I used the opportunity to try the Hilton at the Frankfurt Airport. It was stylish, very quiet, and in a very convenient location. Yeah – I think it was totally worth the high(ish) price that I paid for it.
A full review of my 1 night stay at the Frankfurt Airport Hilton
"You mean you flew all the way to Germany and stayed at the airport?!" Darn right I did. Besides, I was only staying one night and I had a very early flight in the morning that I needed to catch. Staying very near to the airport was the most convenient option.
A quick look on the internet revealed the Hilton to be the best choice – at least in terms of visual appearance. The pictures of this place looked really good, and a scary as it may sound, that's all I need to make a hotel choice.
If the pics look good, I'm in. Normally this works pretty well, but I did get burned with my decision to stay at the Miami Airport Hotel. That was a total letdown. Let's see how I fared this time…
The location
My flight into FRA arrived around noon, and by the time I got out of passport control and customs, it took about 10 minutes to walk to the entrance to the Hilton. The nice thing is that this hotel is located adjacent to terminal 1, which was super convenient considering it was the same one I had just flown into.
I didn't even have to go outside to reach it. That alone makes it extra convenient in the winter time, but less so in the middle of summer like it was when I was there. Those huge glass and metal walkways may look pretty, but it's like walking through a greenhouse and I was dripping in sweat by the time I reached the front desk.
The lobby
Thankfully, despite it being a bit early (1pm at this point) they were able to check me in without any issues. That was such a relief. I didn't feel much like hanging out waiting for my room to be ready, and I definitely didn't have the energy to go into the city yet.
My first impressions of the Hilton Frankfurt Airport were pretty good. As a matter fact, I was actually quite impressed darn near immediately. This is a fairly new structure, and all the glass and metal in the lobby gave it a very high-end appearance.
I especially liked all the natural light coming in through the windows in the roof, which was pretty much opposite of the dark and dreary Park Plaza Hotel in London I stayed in recently. Natural light is a powerful thing, and it was nice to see them embrace it so fully here.
Getting to my room
The room
I found the room to be quite stylish and very comfortable overall, but for the love of God, I wished they would have turned the air conditioning down just a little bit. Just like what happened during my stay at the Hilton in Terminal 4 at Heathrow Airport, it was frustrating to turn up the thermostat to its highest (hottest) setting, only to feel very little effect of that change coming out of the vents. Maybe it's a Hyatt thing?
No matter what I set the temperature to be, it continued spewing miserably cold air and I was convinced that it was going to start snowing at one point. At least that gave me the opportunity to try out the complementary bath towels. One was enough to keep me warm that evening, though I actually did consider putting the second one on.
It's also worth noting that this is a very quiet property. I went to bed at 7 PM due to being overwhelmed by jet leg (and the need to wake up at 4 AM the next morning), and it was dead silent the entire time.
The bathroom
The bathrooms here at the FRA Hilton are nothing short of stunning. For example, the bathrooms in the BOS Hilton are nowhere near as nice – which leads me to believe that not all airport Hiltons suffer the same in this regard.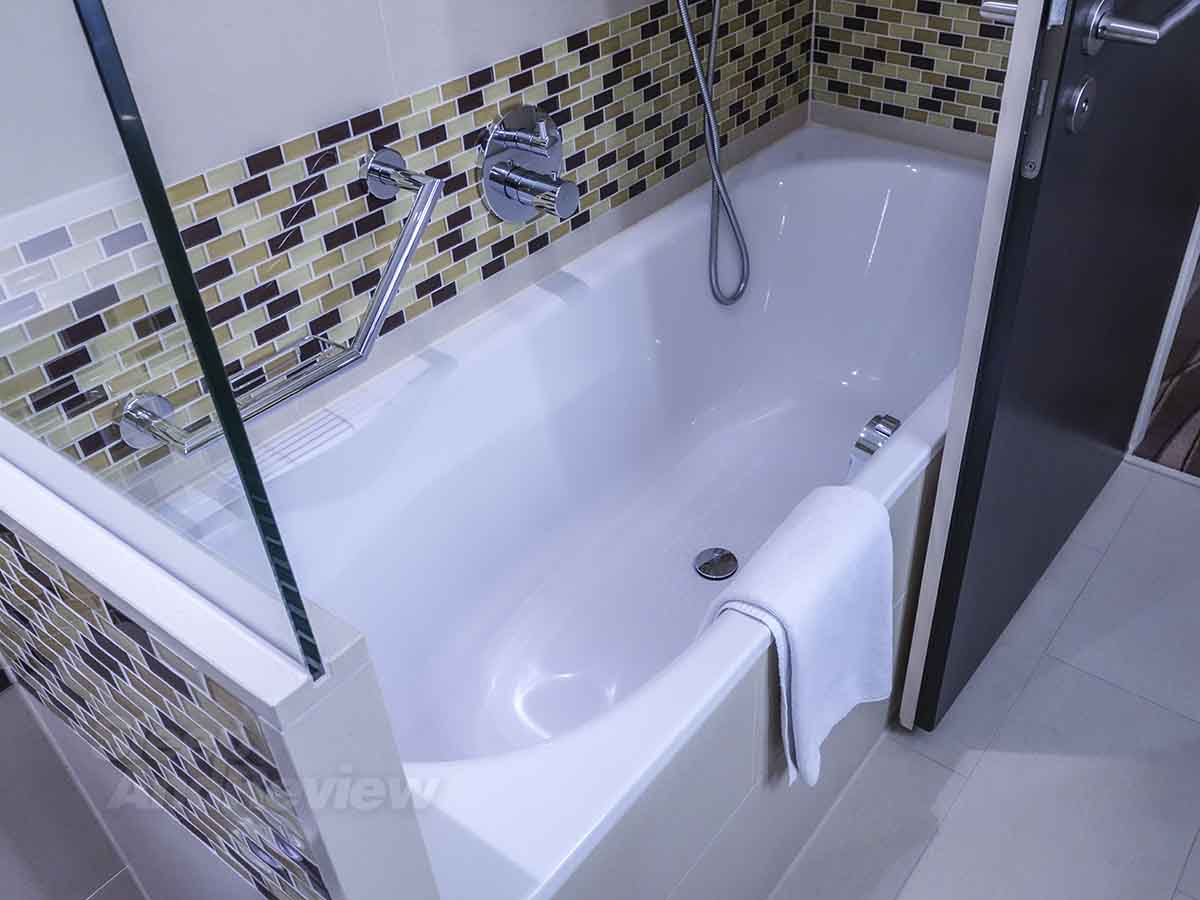 The food situation
here is a grocery store located not far from the entrance of the hotel (within The Squaire) that is simply phenomenal. The self-serve salad bar was where I got dinner that evening, and for roughly 7 dollars (US), I had a healthy and huge meal which was highly satisfying.
If salad bars aren't quite your thing, there are a multitude of other little cafés and restaurants immediately nearby. You won't have to go far to find food near this hotel, and all of it is reachable without going outside.
Final thoughts
Even though there are several other hotels located adjacent to Frankfurt airport, I wouldn't be so tempted to try any others after the experience that I had here. The Frankfurt Airport Hilton is very convenient and very comfortable, and I could definitely see myself staying here again without even thinking twice. Two thumbs up from me.