The best thing about the Hilton at the New Orleans Airport (MSY) is that it's extremely consistent with other airport Hilton properties in the US. Nothing surprised me.
The worst thing was that (despite being located directly across the street from the airport), it's not all that easy to get to. That said, I enjoyed my stay, and you're darn right I would do it again.
A full review of my one night stay at the New Orleans International Airport Hilton
First of all, I need to set your expectations for this review: what you are about to see isn't going to be anywhere near as nice as what you saw in my review of the Hilton at the Munich Airport (MUC).
However, if you read my review of the Boston Logan Hilton, this isn't likely to be all that surprising. Here we go…
Location
I know. Looking at the map below, it appears as if the Hilton at MSY is located directly across the street from the airport. It almost looks like a walkable distance, right? Wrong!
Yes, this Hilton is located directly adjacent to airport property. However, it's on the backside of that property, and requires a 10 minute shuttle ride to reach. Walking would take, like, forever.
The lobby (and checking in)
One nice thing about traveling so frequently is that I've learned not to get excited when walking into the lobby of any Hilton branded hotel. The one here at the New Orleans International Airport was extremely sterile and generic, and there was nothing about it that made me nod my head in excitement with their interior design decisions.
It should be noted that I didn't even have to check in at the reception desk. I checked in via the Hilton mobile app instead, and conveniently received a digital key to my room hours before I arrived.
Getting to my room
I reserved a corner room on the 6th floor during the check in process. That request was granted, so it was a bit of a hike up the elevator and down the hallway (all the way to the end). The hallways are most certainly on brand with the overall style and design that Hilton is going with these days.
Room overview
My room for the evening (648) was just as squeaky clean as the lobby. I appreciated the fact that it didn't smell like bleach and chlorine – which is something I've experienced a lot (maybe too much) in Hilton properties over the years.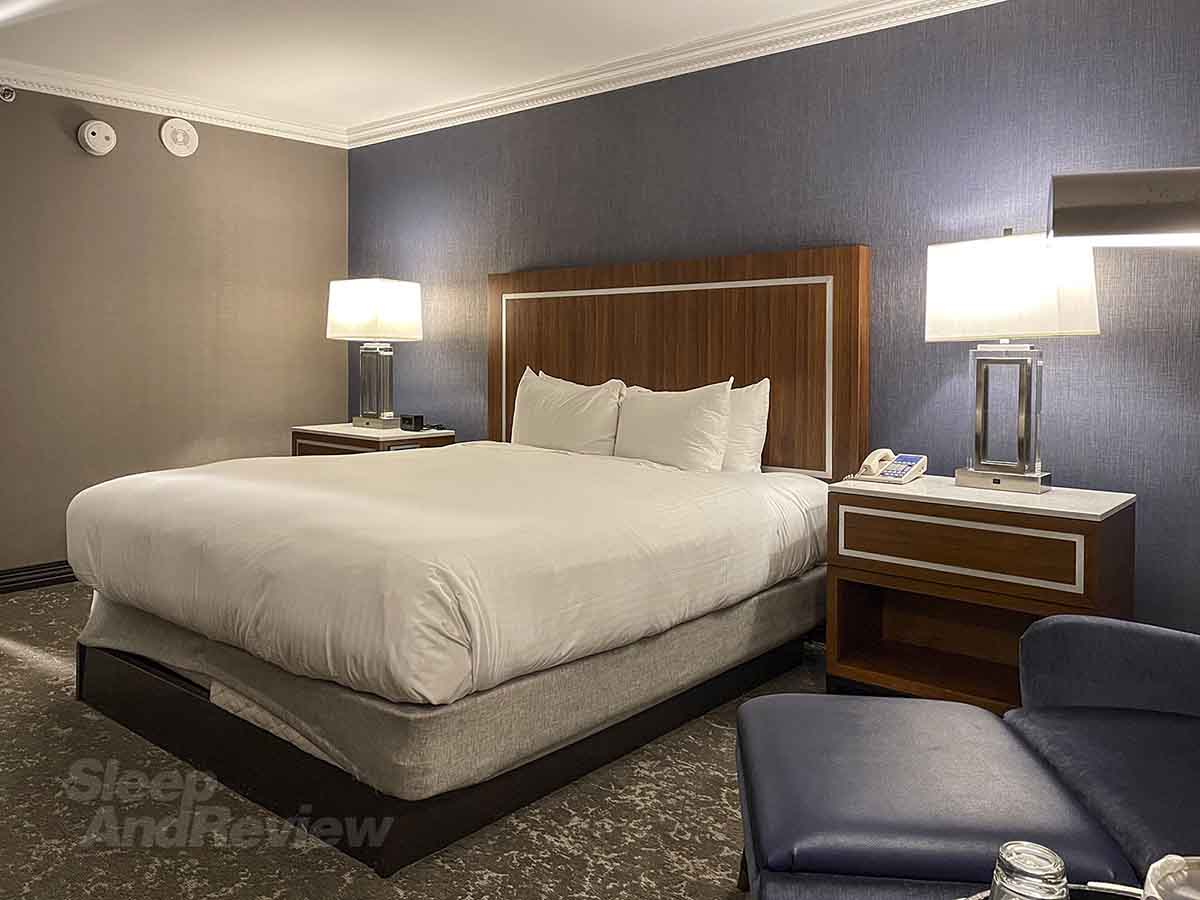 The overall size of the room is what I would refer to as 'generous'. It was a very decently-sized standard-issue hotel room.
The view
I usually prefer to have a room facing the terminal (and the runways) whenever I stay in an airport hotel. Unfortunately, it wasn't meant to be this time. My room was overlooking the back parking lot – which was totally my fault.
I chose this room on the mobile app (which had no reference to where the airport was), so I have no one to blame for this goof but myself.
The bathroom
Dear whoever it is who is in charge of designing the bathrooms for airport Hilton Hotels in the US: you're doing it wrong.
Seriously. The bathroom in my room for the evening was not any nicer than what I experienced at the Comfort Suites at the Anchorage Airport once. Thankfully it wasn't any worse, but that's not the point. Was there a survey of some kind which revealed that most US travelers don't give a crap about bathrooms? I'd love to see that data.
On-site restaurant
Yes, there is an on-site restaurant at this particular Hilton, which I found to be a fairly decent value for the money. I paid $18 for full access to the breakfast buffet. It was OK.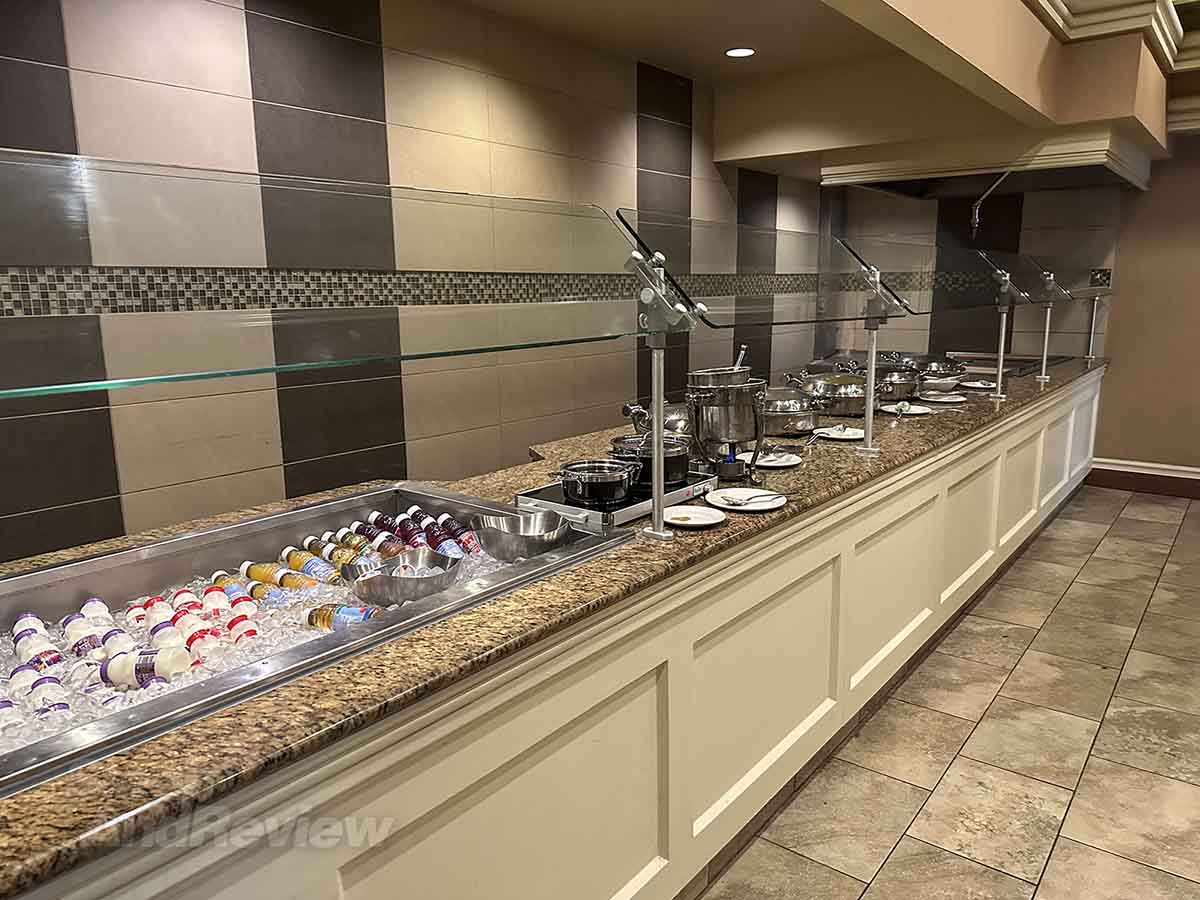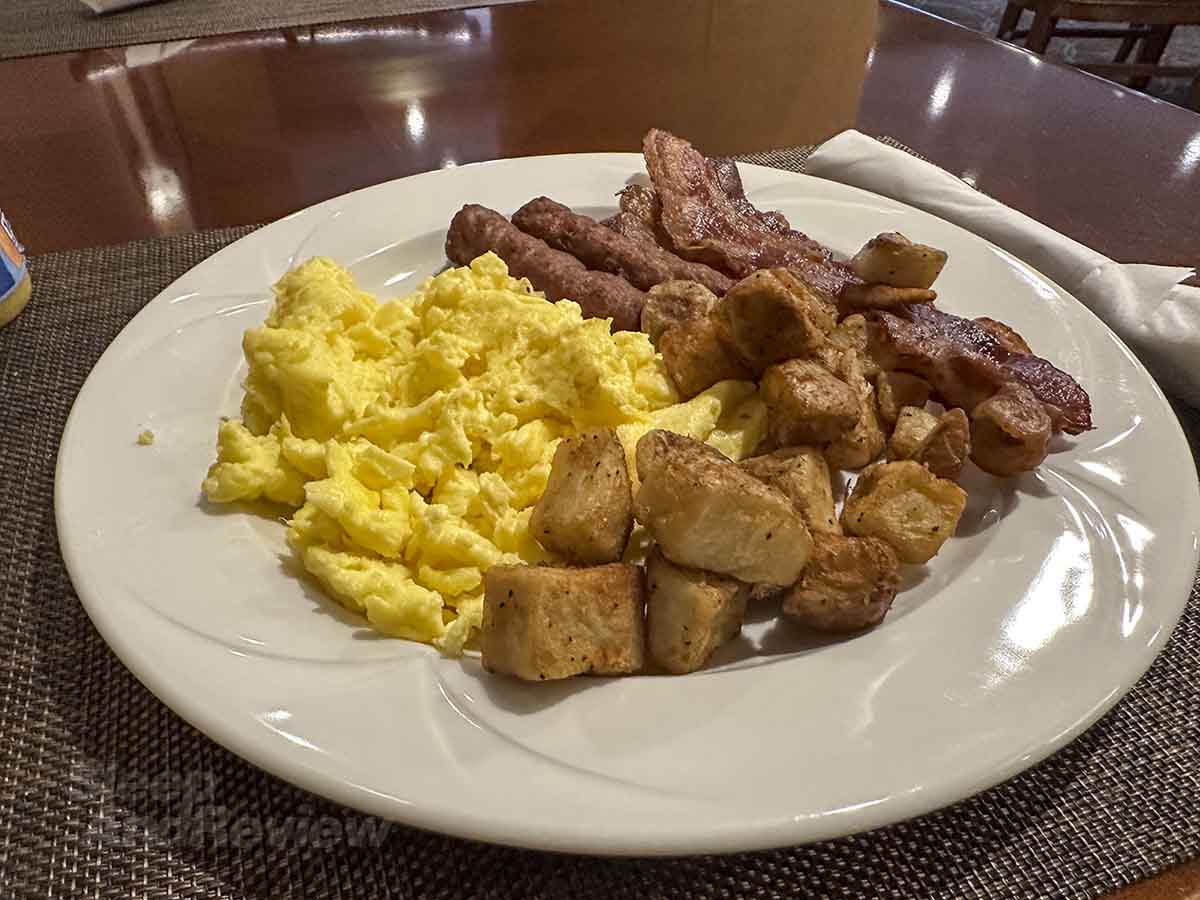 Pros and cons of the Hilton at MSY
Thinking back on it, if I didn't take all the pictures and video clips needed for this review, this experience would likely be eradicated from my mind within six months or so. This is a very generic (but clean and safe) hotel. It's not bad, but it's certainly not worthy of being called 'fantastic.'
Pros
It's a very clean property. Everything from the lobby to the hallways to the room was squeaky clean.
It's very consistent with other US airport Hiltons. There's nothing that makes this one any better or worse than the others.
The airport shuttle service is very convenient thanks to how high frequency it is. You won't have to wait long.
Maybe I just got lucky, but it was very quiet during my stay. I slept like a baby.
Cons
Yeah, it's located directly across the street from the airport, but it still requires a 10 minute shuttle ride to reach. And don't even think about walking.
Dining options are somewhat lacking IMHO. You'll be better off getting food in the airport (or somewhere nearby).