I know what you're thinking. I must be sick and twisted in the head to write a full review of the Comfort Suites at the Anchorage Airport (in Alaska), as it's pretty much as generic as generic hotels get. I mean, who does that?
A full review of my 1 night stay at the Comfort Suites at the Anchorage Airport
When booking a hotel for this trip, the primary requirement was distance to the airport. I had an early flight out of ANC the next morning, and having a place to stay as close to the airport would certainly make things as easy as possible. Judging by what I saw on Google maps, the Comfort Suites seemed to fit that bill nicely.
That's a dangerous way to pick a hotel, and I learned that the hard way this time.
When driving to this hotel I thought that it was going to be rather easy based in the fact that it appeared to be on a major road leading into the airport. Heck – I didn't even think I'd need a map!
That proved to be a mistake, however, as I quickly realized that this Comfort Suites is located on a service road which is located parallel to the main highway – and it took me two trips around the block to fully understand where the entrance was. It's not clearly marked at all, with only one tiny sign and a hidden driveway serving as the main entrance.
The lobby (is very Alaskan)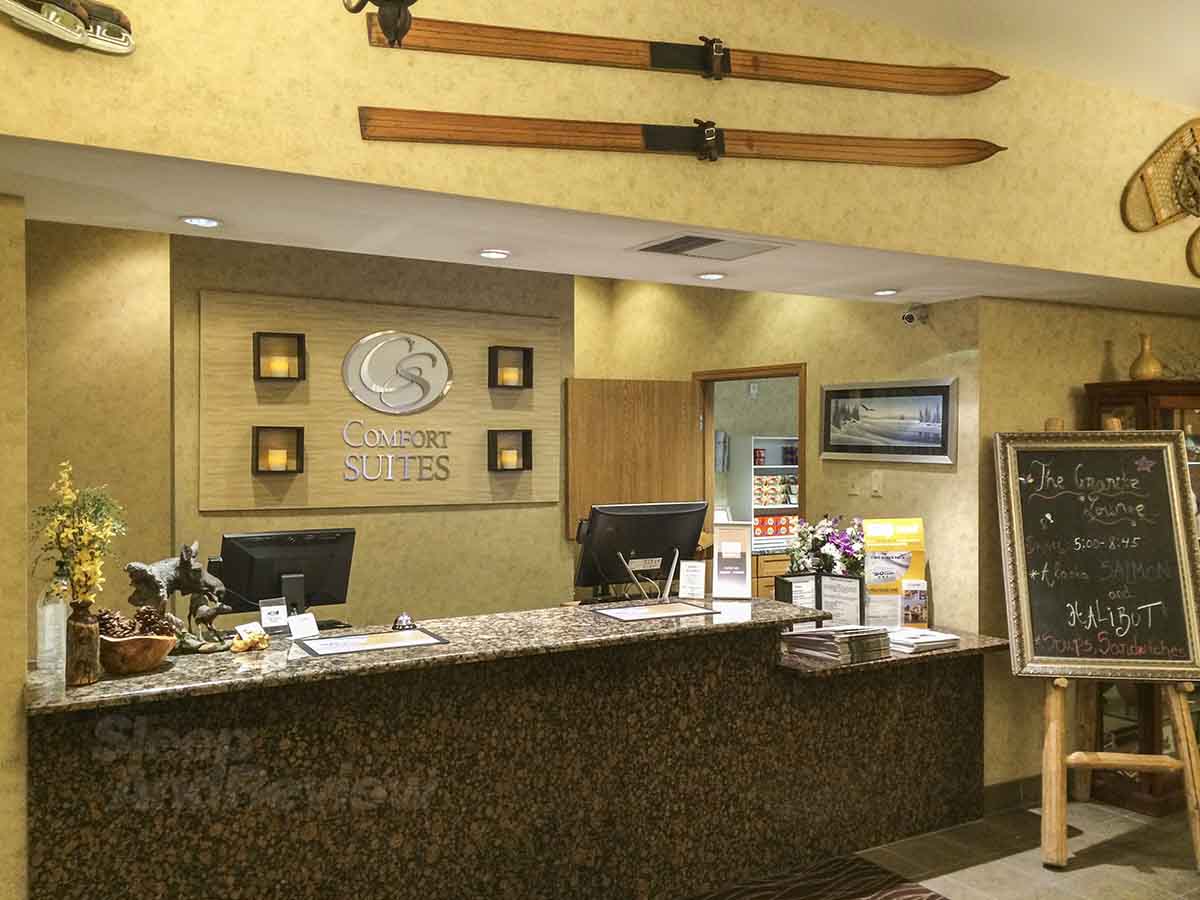 Once I figured things out, it was an easy and quick check in process. The lady at the front desk couldn't have been more nice and helpful, which is always a nice thing to see after a long day of travel and adventure! My first impressions upon walking in the front door: rustic and very Alaskan – there's even a huge stuffed bear in the lobby. Would you expect anything less?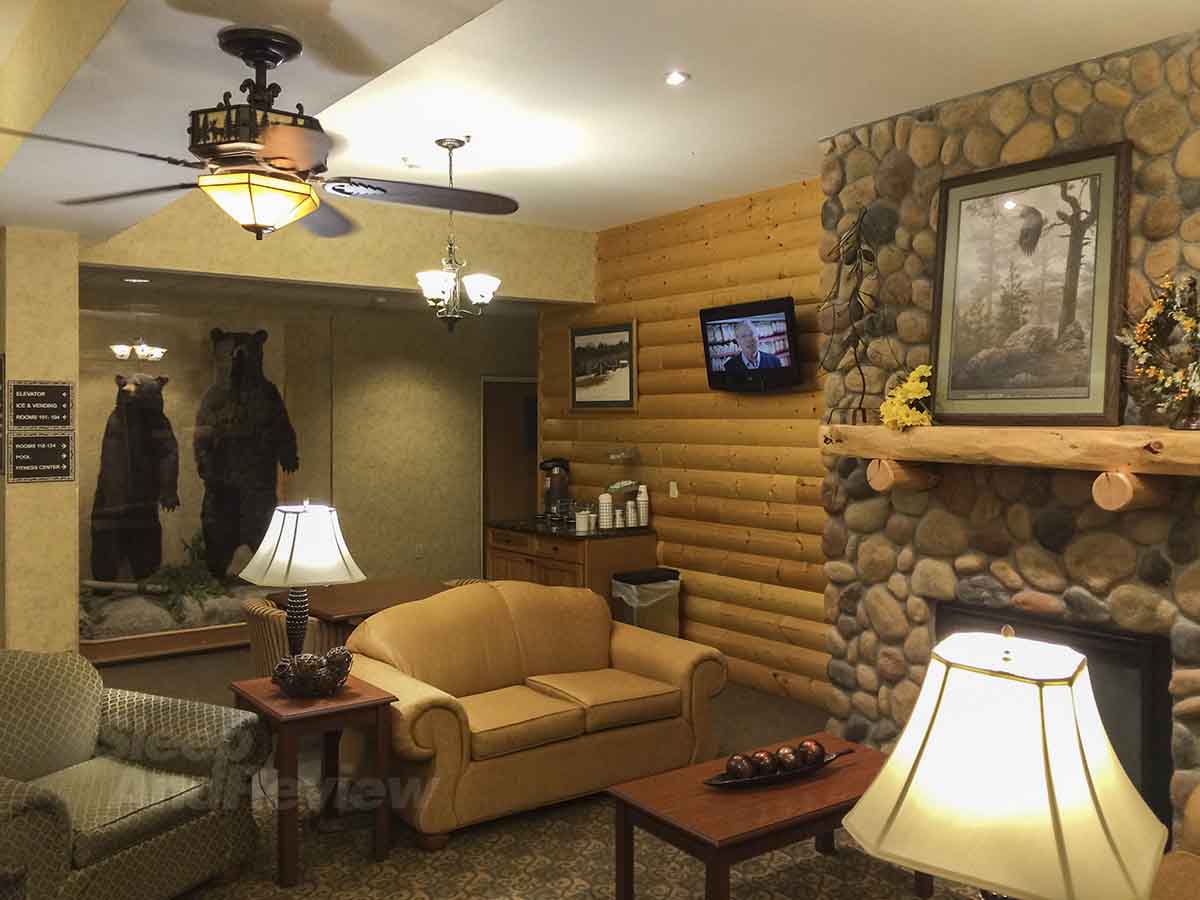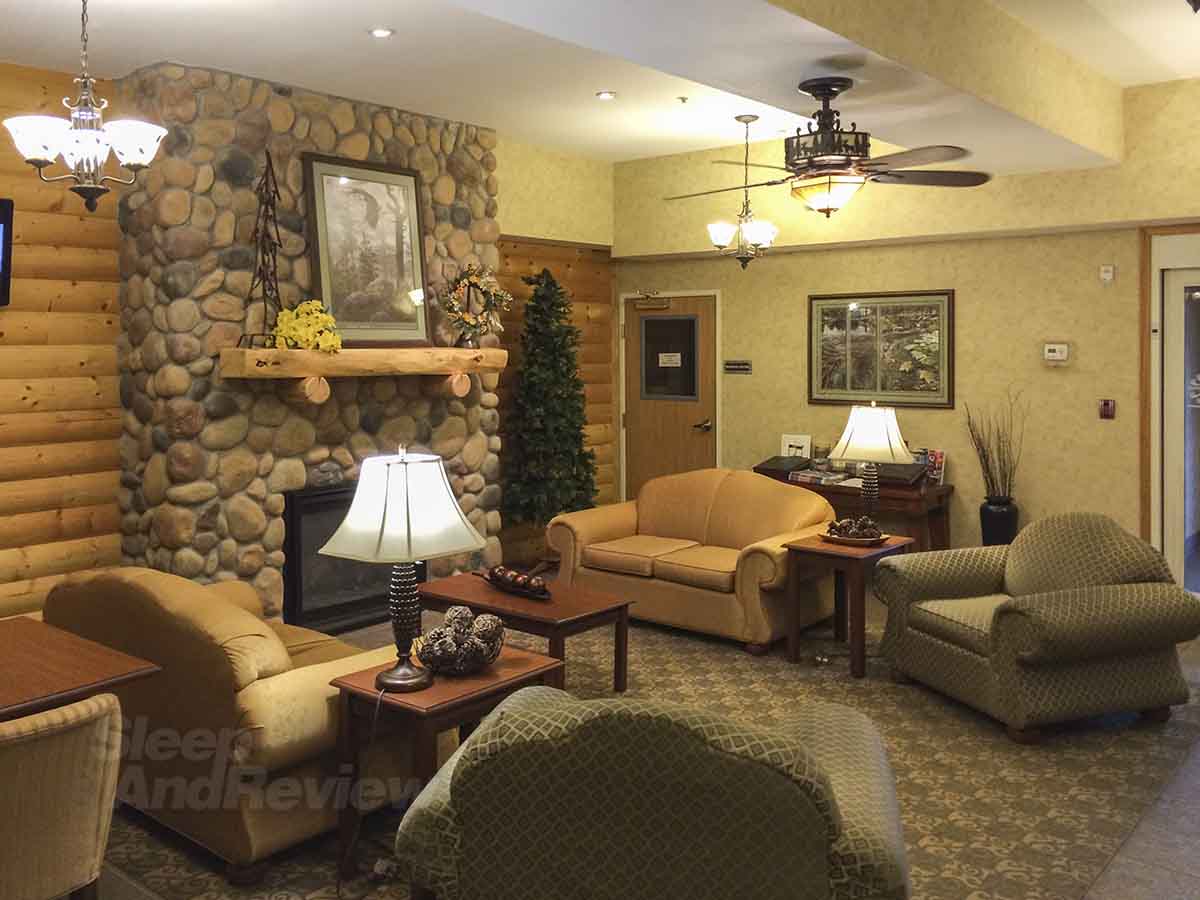 Getting to the room
I took the stairs to my second-floor room, and as soon as I entered the hallway I was hit with the feeling that this was most certainly not a luxury hotel. I think the hotels I've been staying in recently have been too nice, as I couldn't help to immediately feel as if this place felt very cheap.
It's difficult to explain why, but the faint smell of chlorine, buzzing from the vending machines, and super-wide hallways just screamed "budget". Not that there is anything wrong with that, but this place was the classic definition of the airport hotel. I've stayed in some nice airport hotels recently and this one was certainly not up to that caliber.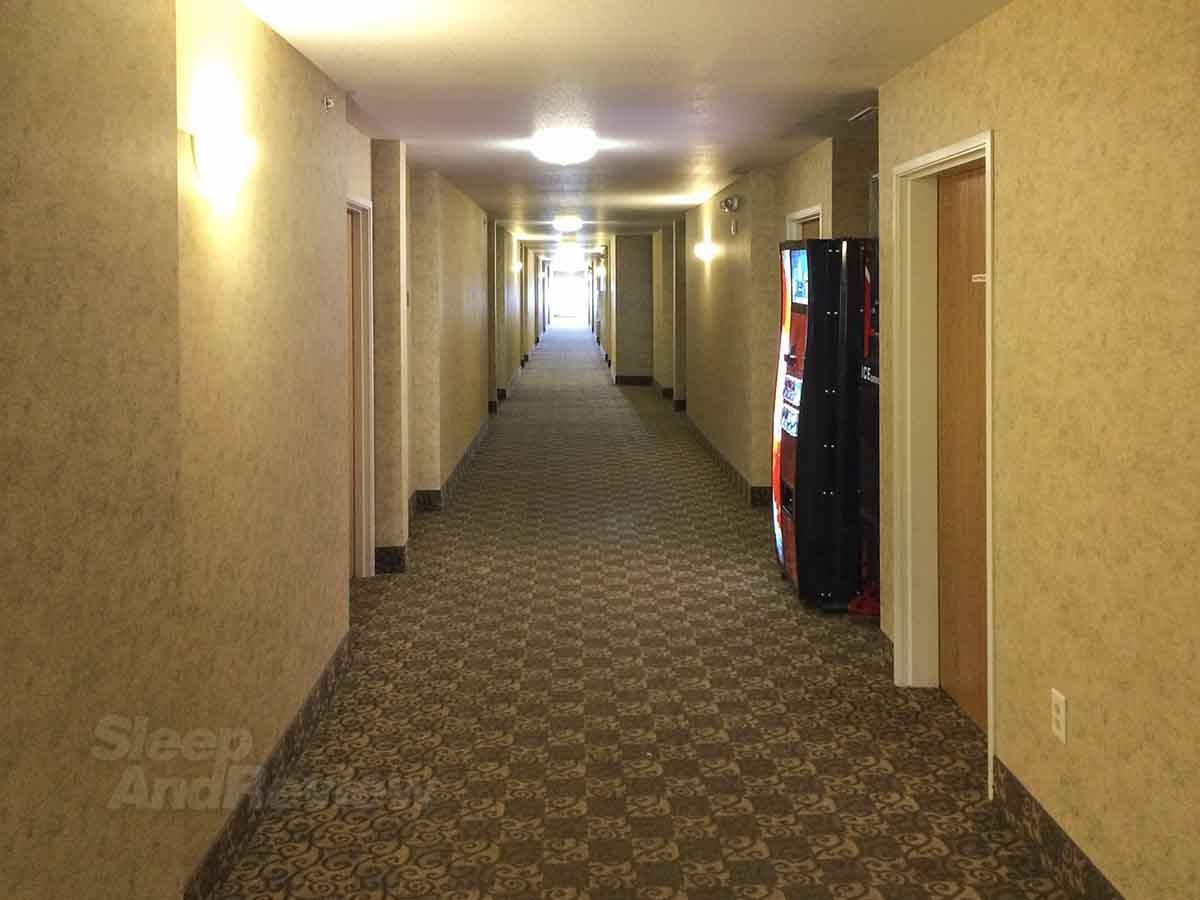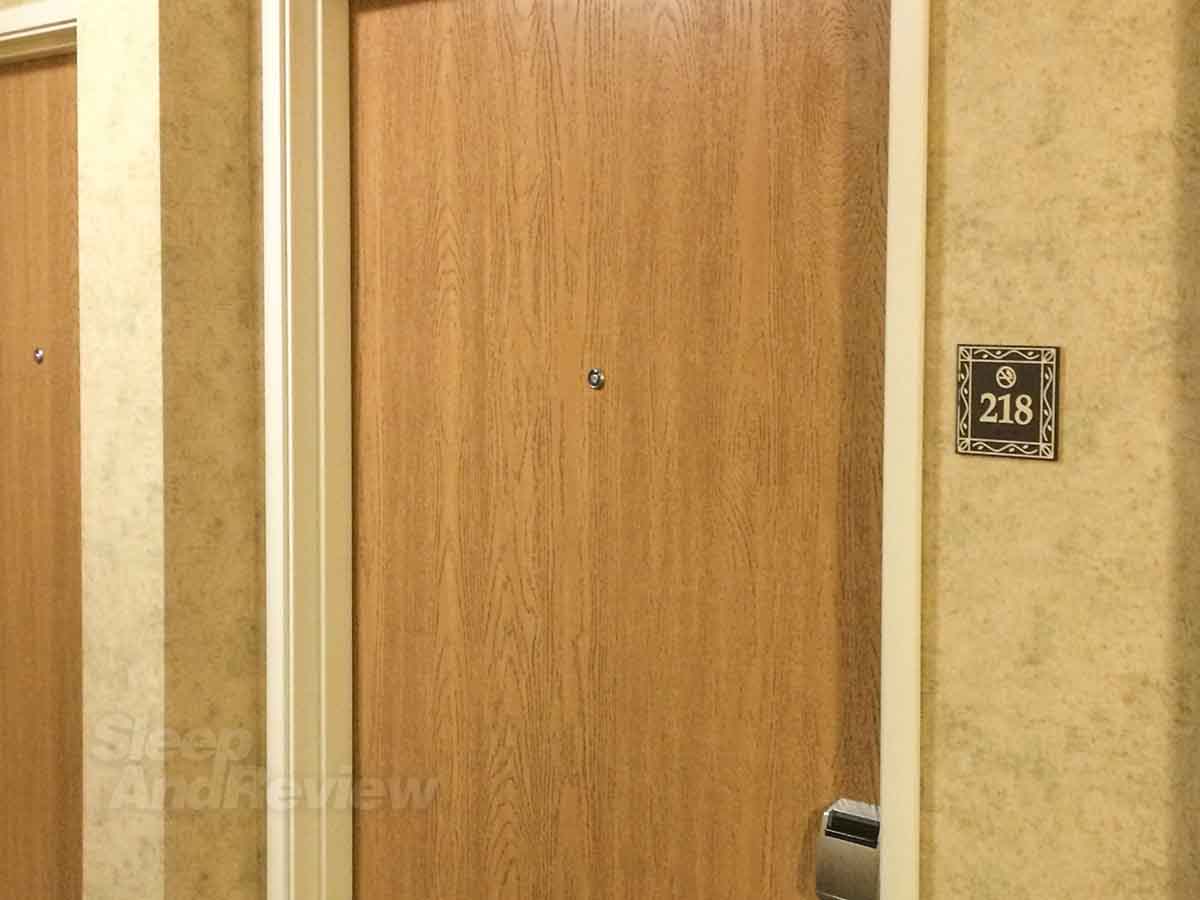 The room
The room itself was actually a nice surprise. I wasn't expecting much, but it was huge! The layout wasn't anything special, but overall it felt very spacious.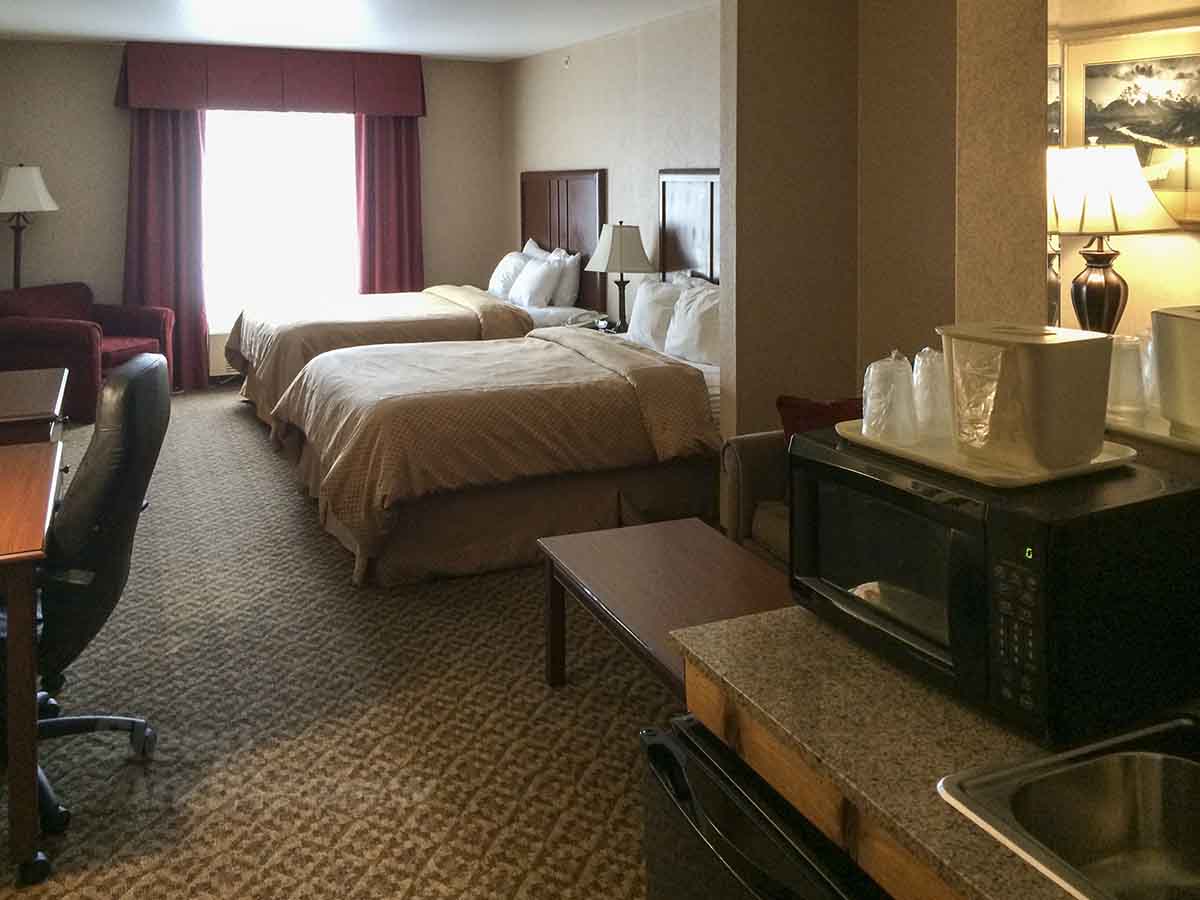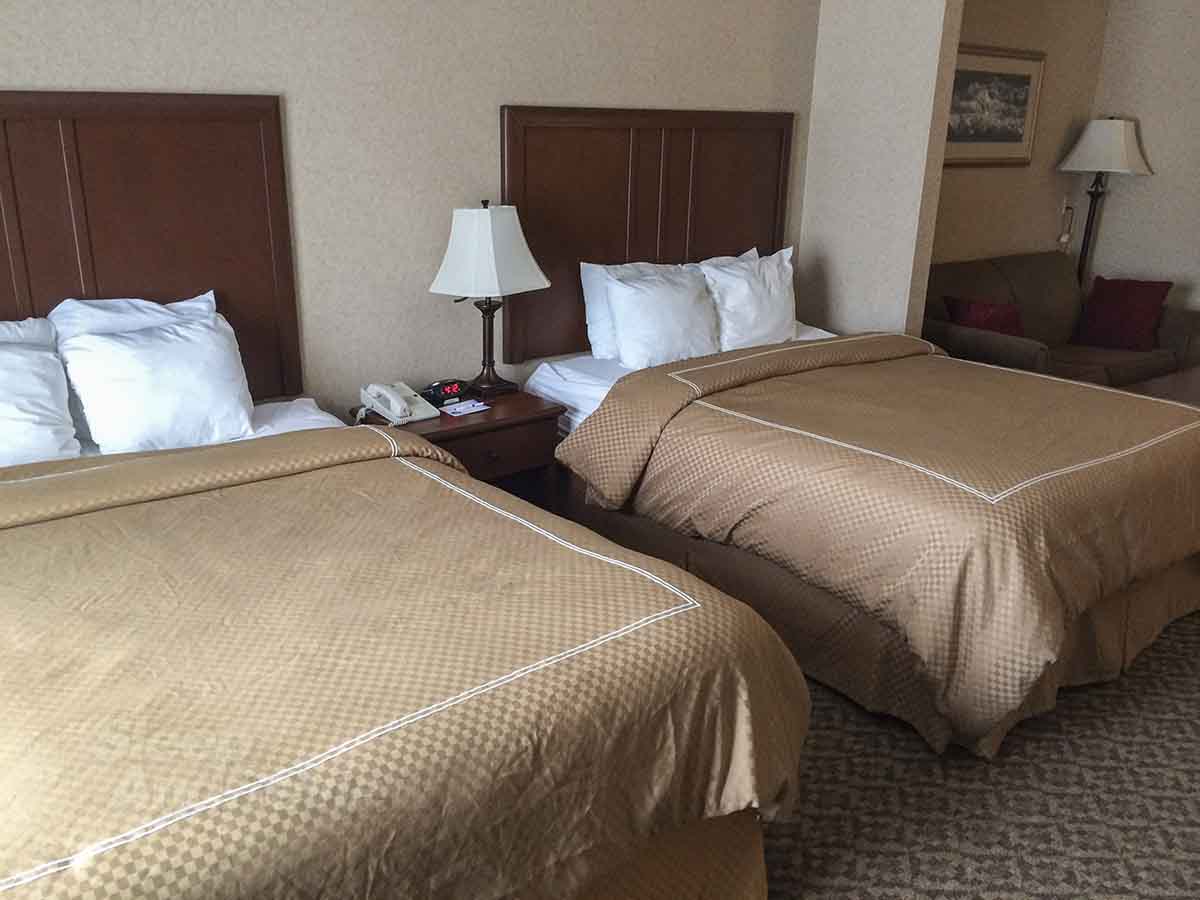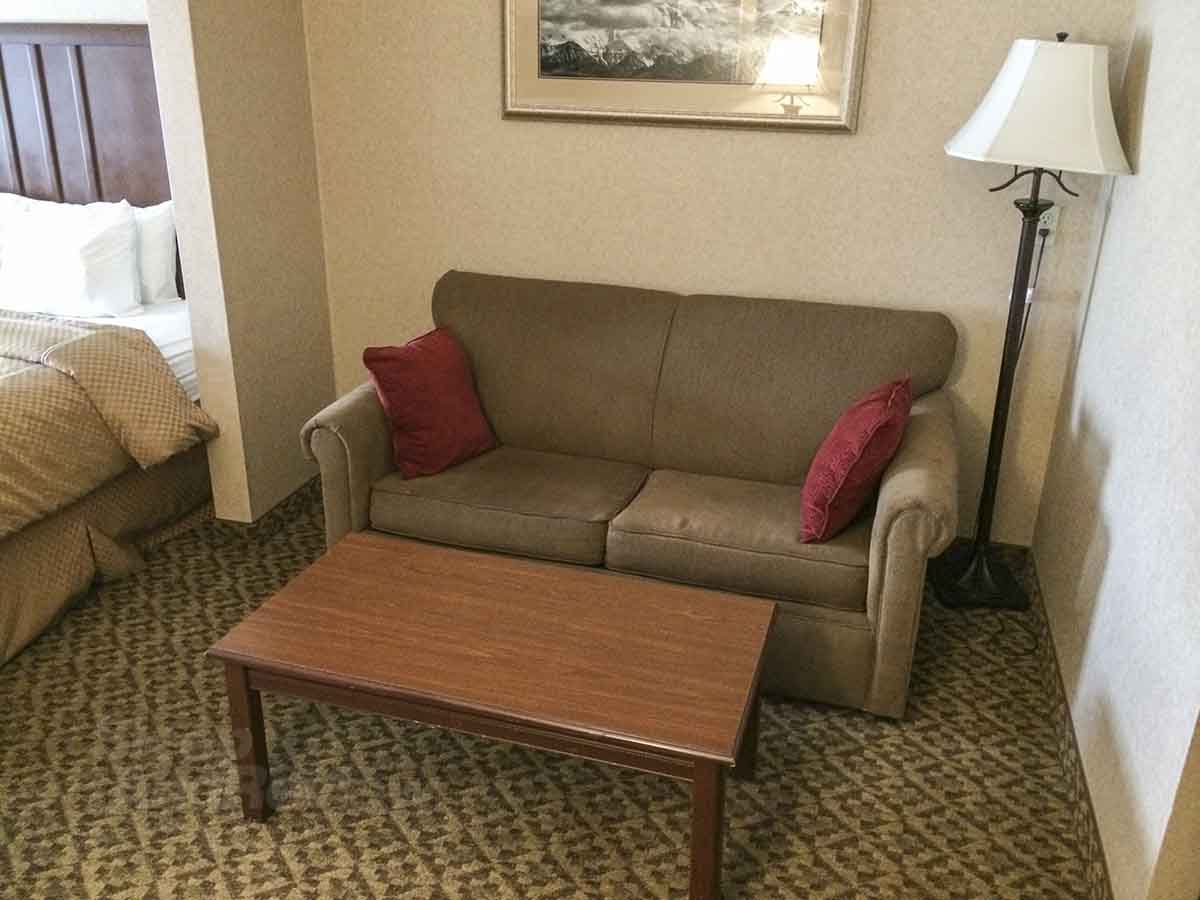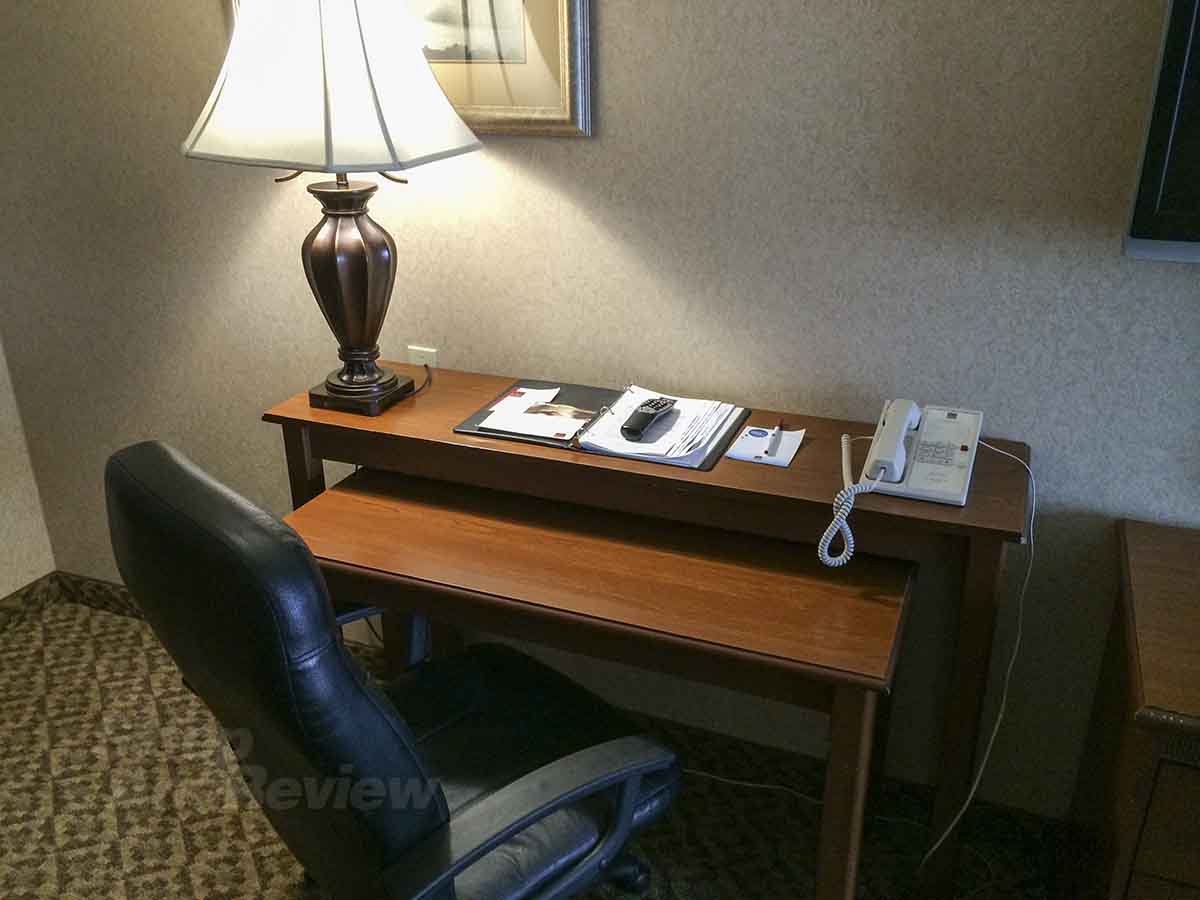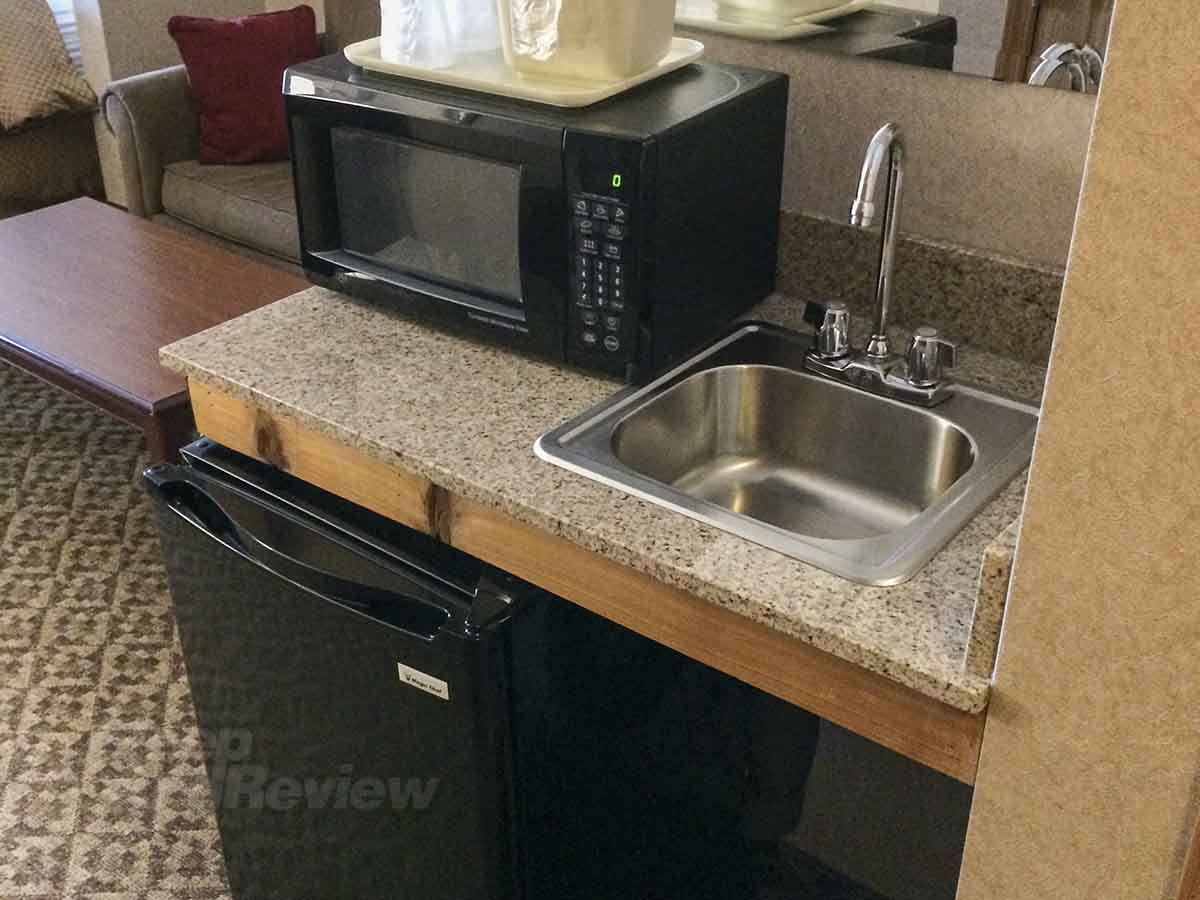 The bathroom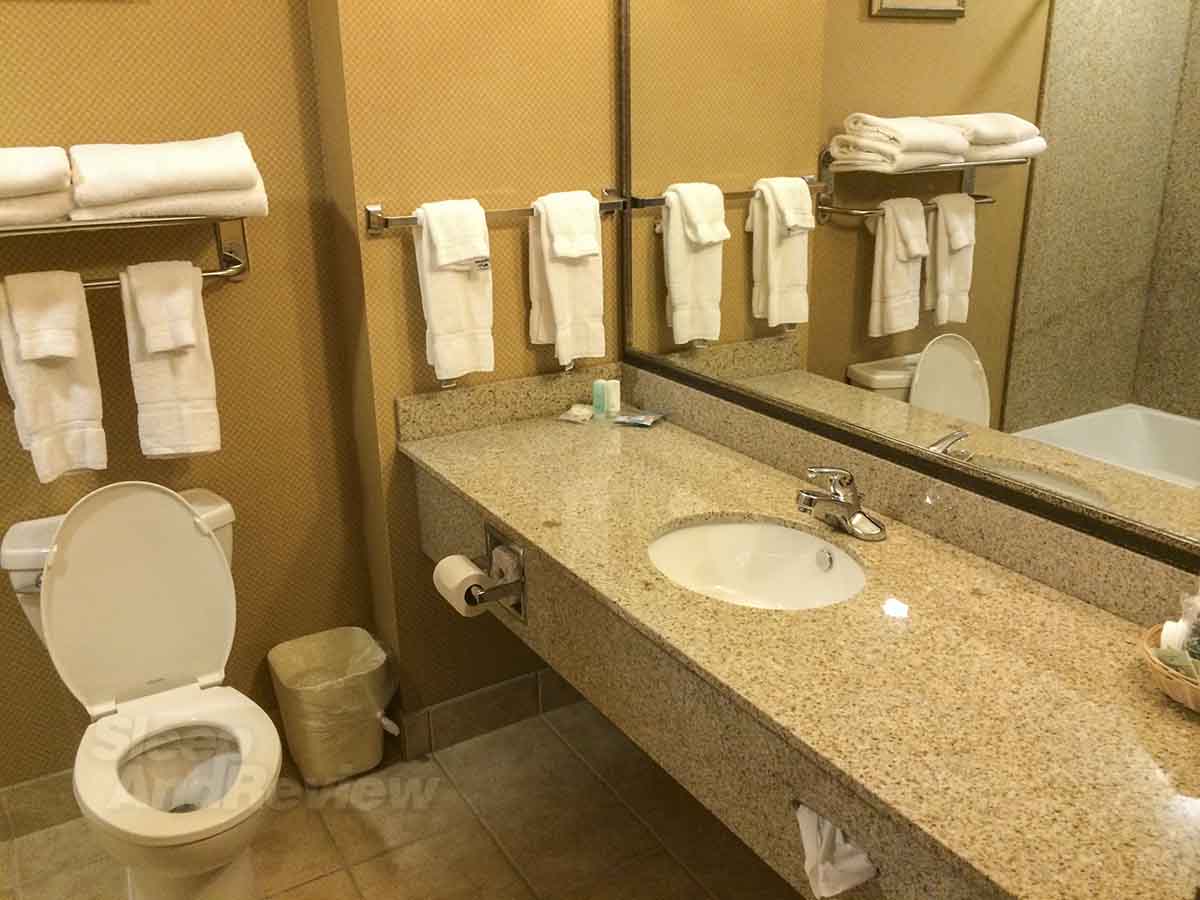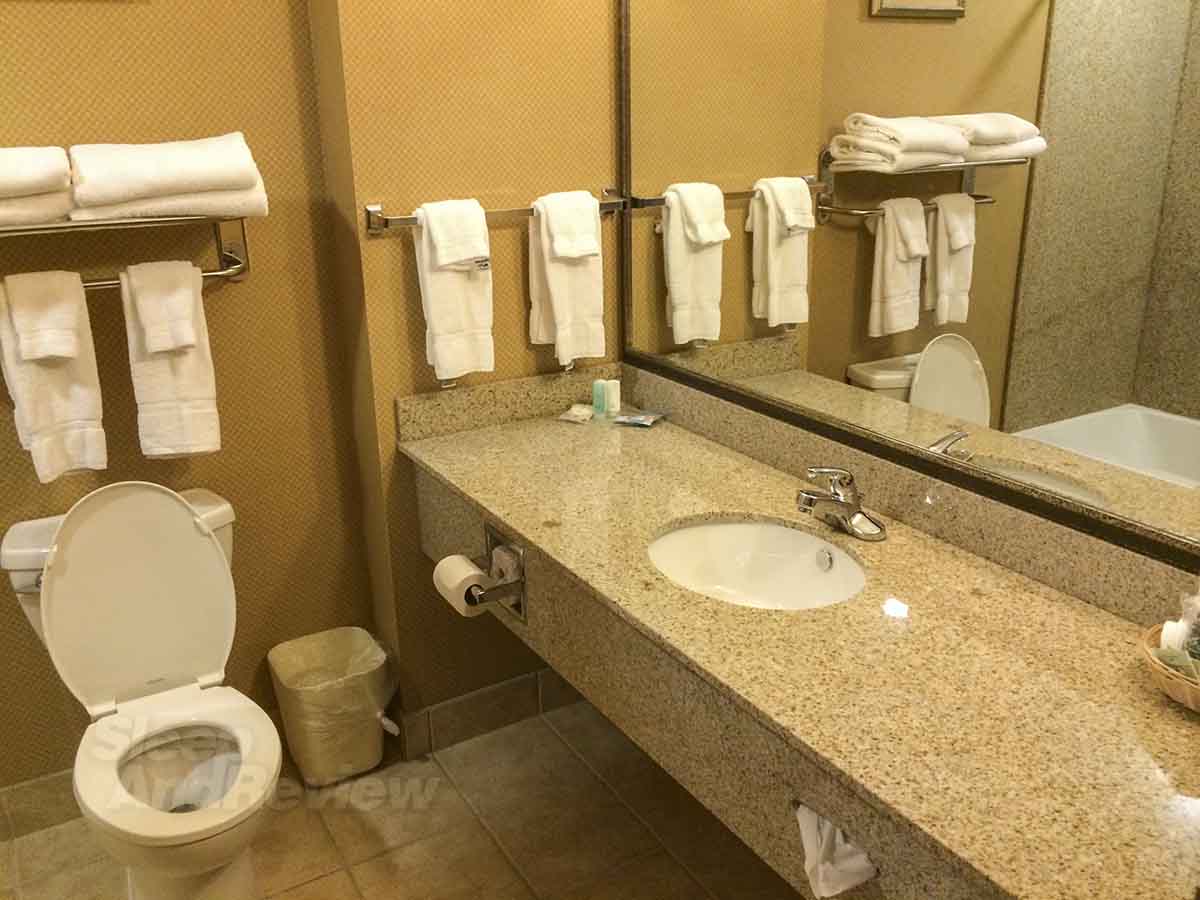 It wasn't perfect
It wasn't long, however, until I realized that something was very wrong. The pounding and loud noises coming from the room above made one thing very clear: the walls and floors of this hotel were paper thin, and one could hear everything coming from the rooms all around. Yup – there was a huge family with young children in the room above mine and the non-stop stomping and running back and forth was driving me insane within a matter of minutes.
It only took an hour before I called down to the front desk to see if they had any other rooms available. Yes, I was that desperate! Unfortunately, the only available rooms were the much higher-priced suites, and I wasn't willing to pay for that. I would have even switched to a different hotel if I hadn't prepaid my room for both nights through hotels.com. I was not a happy guy.
The stomping and running eventually ended around 11pm, so I was able to get to sleep at a reasonable hour. But I remember waking up at 4am worried that those little demons above me would be waking soon. Luckily, I was able to sleep all the way until 8am before I heard the first bang on the floor.
Things I absolutely hated:
There aren't any blackout curtains, which is a problem during summer here in Alaska. My room was bright 24 hours a day, and I ended up sleeping with a pillow over my head to block out the light.
The flat screen TV was really low quality, and the aspect ratio was off enough so that it clipped part of the screen on many channels.
The bathroom door would not stay open on its own, which was stupidly annoying. It drove me mad to walk into the bathroom for something really quick only to have the door gradually close behind me.
I didn't eat in the restaurant, mostly because the hours were inconvenient. Dinner was served from 5:30 to 8:30, which didn't work for me due to the fact that it was prime-time for aviation photography out at ANC and I couldn't return before they closed.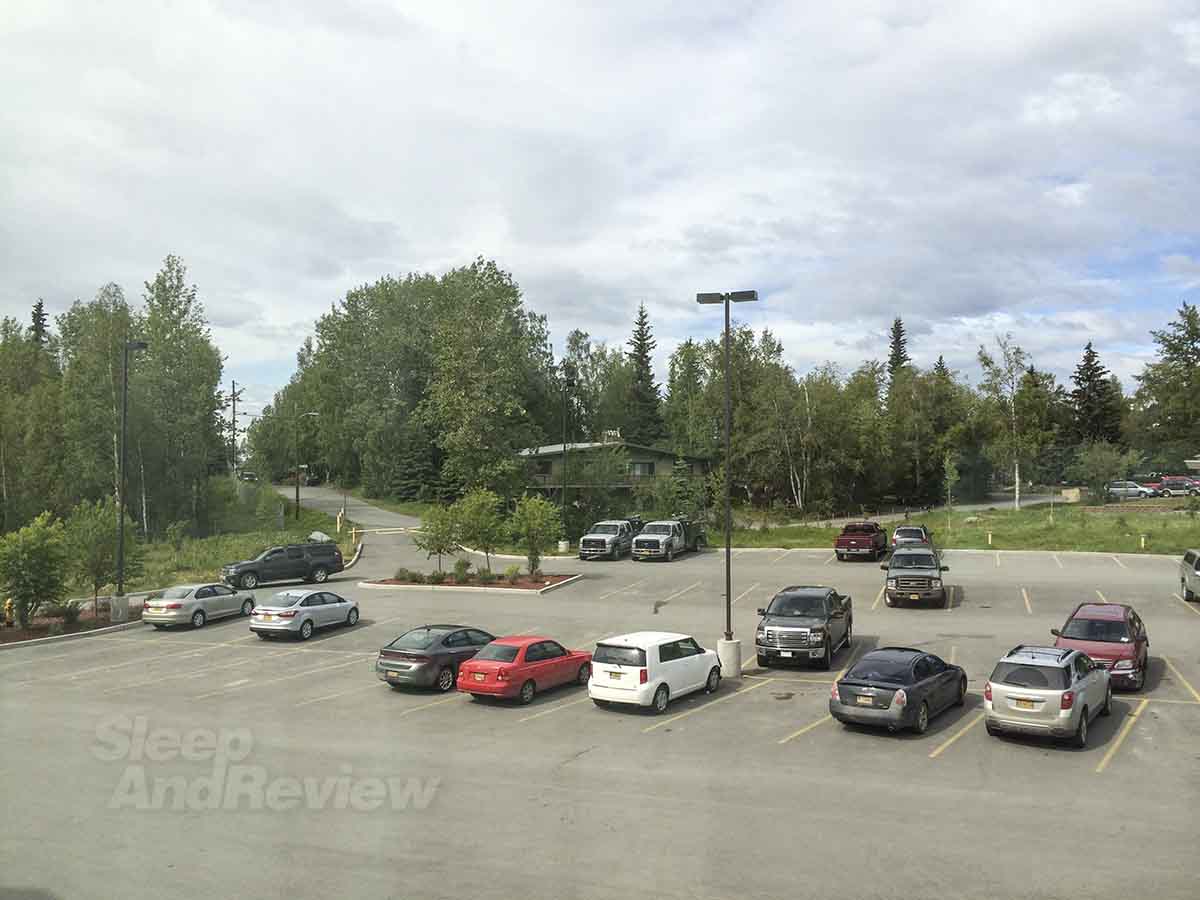 Final thoughts
Would I stay here again? It's hard to say. The location is pretty good (very near the airport) and I found the staff to be pleasant and nice. The fact that the walls and floors are so thin makes me apprehensive about another stay. If the neighbors are quiet, this is a great place. But it's downright miserable if the guests in the adjacent rooms make any noise at all.