If you're too lazy to read this entire review (don't worry, I won't judge), all you need to know is that the Vive Hotel in Waikiki is a decent option if you can get it for a decent price.
The rooms are small, the windows are even smaller, and you'll spend the majority of your time wishing you were in a luxury hotel instead.
A full review of my 1 night stay at the Vive Hotel in Waikiki
Choosing a hotel in the heart of Waikiki is usually easy. Up until this point, I had become totally convinced that you could make an excellent selection by simply closing your eyes and pointing to anywhere on the map with your finger. Chances have always been you'd be quite happy with whatever your finger landed on.
My method for choosing a hotel for this stay was very much like that, and my finger ended up pointing me to the Vive hotel located on Kuhio Avenue (just down the road from the Hilton Waikiki Beach that I like so much). The price seemed decent, and like pretty much any other hotel in Waikiki, the location was perfect. Decision made!
First impressions
Pulling up to the Vive in the taxi was slightly disappointing (even more disappointing than the time I pulled up to the Sheraton Princess Kaiulani Hotel for the first time). Right away it felt like a small low-budget property that wasn't anywhere near in the same league as others in the area, so I was worried that my finger had led me astray and that maybe…perhaps…this was a bad idea.
Then the front desk agent handed me a glass of ice cold guava juice and two hot macadamia nut cookies before starting to check me in, and suddenly all felt right with the world. That's my kind of welcome!
The lobby
Right away, it's not hard to understand that the Vive is not trying to compete with the really good hotels in Waikiki (such as the Moana Surfrider). Everything about the lobby screams "budget!" – but in a somewhat cool and hip way. I actually liked it.
Getting to my room
The feelings of having made a bad choice were starting to catch up with me by the time I got off the elevator. The guest room hallways felt very "Comfort Inn" and a lot more on the low-budget side of things than I was expecting.
Especially for the price I pad for this reservation. It was very obvious this used to be a neglected and dumpy hotel (or apartment building) in years past, well before the Vive brand came in with a fresh coat of paint and spruced things up a bit. But it was easy to see through all that and realize that (at the core), this is a budget property.
The room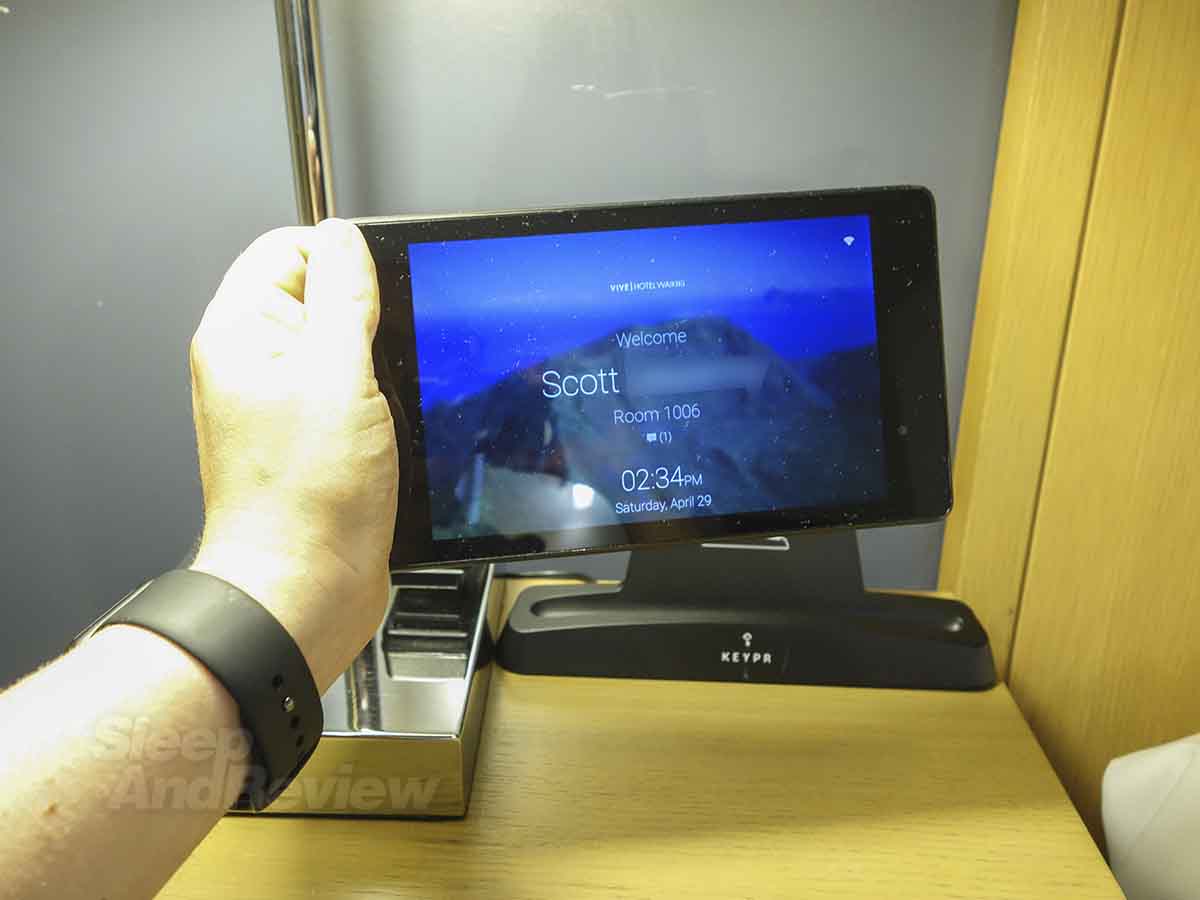 Pro tip: ear plugs are required if you're in a room at the Vive less than 5 floors off the ground and you want to go to bed before midnight. The sound of traffic and drunk tourists on the street will easily keep you awake and tossing and turning until the wee morning hours.
The bathroom
So yeah. Luxury accommodations these were not, and the small size of the room and tiny windows were a bit of a turn off for me.
Large floor to ceiling windows should be standard in every hotel room in Waikiki, and if I were mayor, I'd make that happen! Who wants to fly all the way to Hawaii, spend over $250/night on a room, and feel like they are in prison the entire time? Not I.
But the whole point of going to Hawaii means spending as much time outside of the hotel as possible, so I'll give them a pass on the window issue. The room was pretty good otherwise, though a bit small, and the location was pretty much perfect.
The view
Final thoughts
Would I stay here again? I actually had to pause for a minute after typing that question to weigh the pros and cons of the Vive Waikiki in my mind.
It is a nice hotel. Not fantastic, but nice. It's a bit rough around the edges though, with old fixtures and small rooms with tiny windows. Therefore, my answer is "no". Especially when there are so many other good hotel choices within a stone's throw of this place for the same price.
I may need to rethink my 1-finger Waikiki hotel-selection process for future trips…