Don't worry – visiting Iceland in October isn't as stupid as it sounds
I couldn't help but to wonder if I made a huge mistake by booking a trip to Iceland for the middle of October.
There's usually a catch involved when airfare is so cheap, and I was starting to think that the reason for getting such a good deal was because the entire island would be frozen solid and there would be nothing to do but to dig in the snow and climb on icebergs. It had me worried.
Booking a hotel and trying to figure out how I was going to get from the airport in Keflavík to the city of Reykjavik put my mind at ease (slightly), but I still had some doubts considering that ground transportation and hotels seemed horrifically expensive.
All of a sudden I wasn't feeling so proud of myself for nabbing such a good deal on airfare, and I wished that I could have backpedaled a little bit to do some research before plowing ahead with the flight reservations.
It was too late for that though, so I had no choice but to go and deal with the consequences of being a spontaneous spaz who can't resist a good deal on airfare.
My first impressions of Iceland
Arriving at Keflavik (KEF) at 6 AM under complete darkness and a driving 35°F rain wasn't very fun if I'm being honest, as I was faced with the conundrum of trying to figure out what I was going to do until 3 PM (the time at which I could check into my hotel).
It was far too cold and rainy to head into Reykjavík, since I was pretty sure that I would've been miserable trying to stay warm and dry until the mid afternoon. If there's one thing that puts me in a sour mood, it's being cold and wet.
Sprinkle a little boredom into the mix, and…well…that's when I usually start having thoughts of wanting to throw in the towel and go home.
I ended up staying in the airport until 12 noon, which worked out well since I was able to get a lot of work done before heading into town and transforming myself into tourist mode.
I was still very unsure about being in Iceland in the middle October as I sat there pecking at my keyboard and looking out the windows at all that driving rain, but once I stepped out of the airport for the first time and onto the Flybus headed directly for Reykjavík, my mood changed. Quick.
First of all, it was neat to see that Iceland is a populated and bustling place – not that I was totally expecting it to be all fishing boats and icebergs, but I quickly realized that my worries about coming here in October were hilariously ignorant.
Everywhere I looked there were the comforts of home: cafés, restaurants, schools, office buildings, pedicure salons in nondescript strip malls – all the same stuff that we have back at home, and they were all open and eager for business.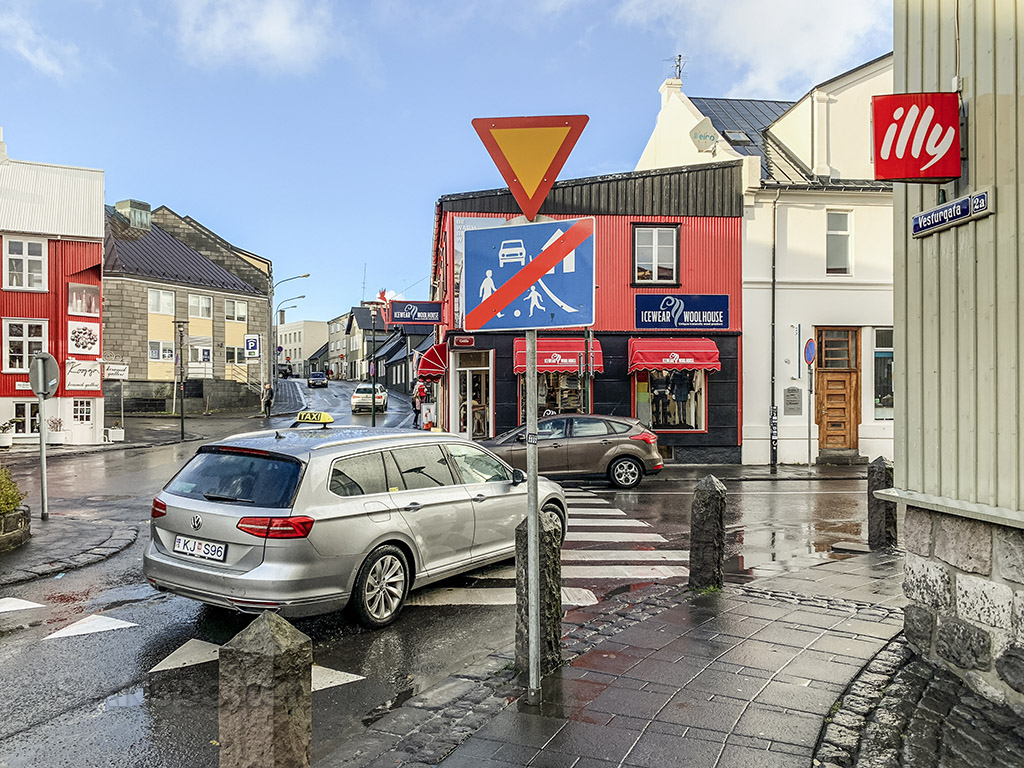 Being in Iceland doesn't mean being cut off from the rest of the world and being forced to rough it out in the wilderness with dry leaves (and sticks) instead of toilet paper.
I've always considered Iceland to be an outdoor destination to the extreme, assuming that people only came here to go camping and hiking. I am a little bit embarrassed to admit it, but I really wasn't expecting to see so much urban development and activity in both Keflavik and Reykjavík.
There's no need to worry – Iceland doesn't shut down in October, and as a matter of fact it's still thriving and open for business just as it is any other time of the year.
Iceland is like a colder version of Hawaii
Even though I returned from this trip over a month ago, I'm still getting asked (nearly daily) about it. Nearly every question I get (whether it's about the landscape, the food, or the weather) can be answered with the same reply. "It's a lot like Hawaii!"
Both Hawaii and Iceland are islands built from volcanoes that grew out of the sea, so therefore, you can expect to see black volcanic rock nearly everywhere you go.
As a matter fact, there were moments while on the bus between Keflavik and Reykjavík that I could've sworn that I was on the big Island of Hawaii. Rich black volcanic rock lined both sides of the road, with bushels of dry brown grass on top blowing majestically in the wind.
Seriously – if I was dropped here blindfolded on a decently warm day, it would be darn near impossible for me think that I wasn't in the land of Aloha.
The food is also eerily similar. The residents of both Hawaii and Iceland are proud meat eaters, and you won't have to look far for a decent roast beast or seafood plate in either place.
Of course the local flavorings are unique to each, and you might have a bit of difficulty finding fresh mango and pineapple in Reykjavík. But then again you're not likely to find reindeer meat in Hawaii either. Despite the differences, I do believe the locals from either island would be happy to eat the food of the other.
Comparing the weather of Iceland to the weather in Hawaii is a bit more of a stretch, but the tall mountain peaks on both islands are large enough to affect the weather in the same way. There's always something magical about seeing misty fog and rain hugging rugged mountaintops off in the distance.
No, you're not going to freeze to death in Iceland in the middle of October
Don't let the word "ice" in Iceland fool you. I'm actually quite disappointed to tell you that I didn't even see one crystal of natural of ice during my three day stay. The temperature in Reykjavík was hovering just above freezing the entire time, and the only precipitation that I did see was rain. Quite a lot of it actually, and much of it was horizontal thanks to the high winds.
I had never in my life ventured this far north of the Equator so late in the year and I honestly didn't know what to expect. All I had were visions of ice hotels for accommodations and dogsled teams as the primary mode of transportation. I
f I'm being honest, that's kind of something that I have to be in the right mindset for. It's not easy to get me (a warm weather guy) to that level!
Anyway, the point of this entire post is just to let you know that traveling to Iceland in the middle of October is not a completely stupid idea and this trip worked out pretty well for me actually. Everything is open, the shops and stores are thriving, and the weather is fairly decent if you don't mind a little rain.
Is October the best month to go to Iceland? Not by a long shot! It's such a unique place that it'd be foolish not to experience it in both of it's amazing extremes.
Go in the middle of January if you want to experience a winter wonderland of glaciers, ice hotels, and cold temperatures brutal enough to flash-freeze any exposed skin solid in seconds. The summertime is when you want to go for outdoor activities such as hiking and camping.
October isn't all that bad though – you'll likely get really good deals on airfare (just as I did), and you'll still get to experience much of what Iceland has to offer. Not totally everything, but enough to say that you've seen the place and got a really good sense of what it's all about.