A weekend Waikiki trip that was supposed to be lazy (but wasn't)
When it comes to relaxing vacations stuffed to the brim with peace and quiet, I am the first to admit that Waikiki is not the best choice. Don't get me wrong – it's a downright beautiful place.
But let's be honest here. It's a full-on metropolis, and it comes with all the downsides of a big city: noise, traffic, crowds, and…more noise! Every time I go, I tell myself that I'll go to a different island instead next time but I always end up back in Waikiki.
A super-nerdy overview of my weekend Waikiki trip
I'm not really sure what it is that I like about this place, but it has an energy about it that is hard to describe.
Day 1: Arrival
The first day of a Hawaiian vacation is always amazing to me. I honestly feel the same way I used to feel on Christmas mornings when I was a kid. The anticipation, excitement, and sense of wonder is all exactly the same.
Therefore, there's really no point in dragging on too long about how good it felt to arrive at HNL after the long 5 and a half hour flight from San Diego. I was in "Hawaii" mode as soon as we hit the ground.
I decided to take a taxi from the airport as opposed to the Roberts Hawaii bus that I normally take, all because I was no mood to ride around on a bus for an hour (or more) as the driver dropped other passengers off at other hotels. And come to think of it – I don't recall seeing ONE Roberts Hawaii bus this trip. Are they even still in business? Hmmm….
The taxi from Honolulu International Airport to my hotel (the Hilton Waikiki Beach) took about 25 minutes and cost $50 with tip. Yes, that's expensive, but the convenience was worth it.
I wasted no time at all after checking into the hotel, and was changed into proper beachwear and on the beach in record time. I was more than ready to get this vacation started! The only annoying thing was how windy it was – the trade winds were blowing hard, and I couldn't keep my hat on my head because of it. But problems like these are easily overlooked and I was happy as could be to be on the sand in Hawaii again.
My only plans for the evening consisted of two things: First I wanted to be back in my hotel room at sunset in order to get pics of the sunset that was sure to be amazing. Second, I wanted to get something healthy to eat for dinner.
Eating healthy in Hawaii is a lot harder than it sounds with the plethora of amazing restaurants around. But I did ok, grabbing some tuna, cheese, crackers, and fruit from the Food Pantry grocery store on Kuhio Avenue.
I made it back to my hotel room just in time for sunset, then spent the rest of the evening sitting on the open patio overlooking Waikiki and enjoying life.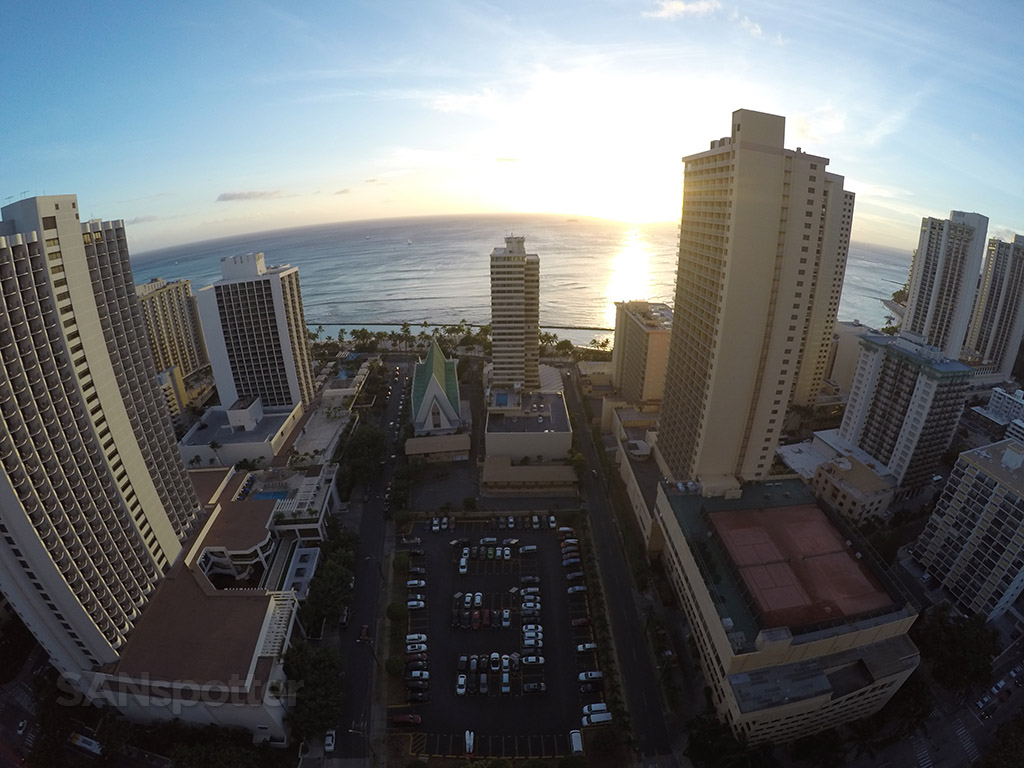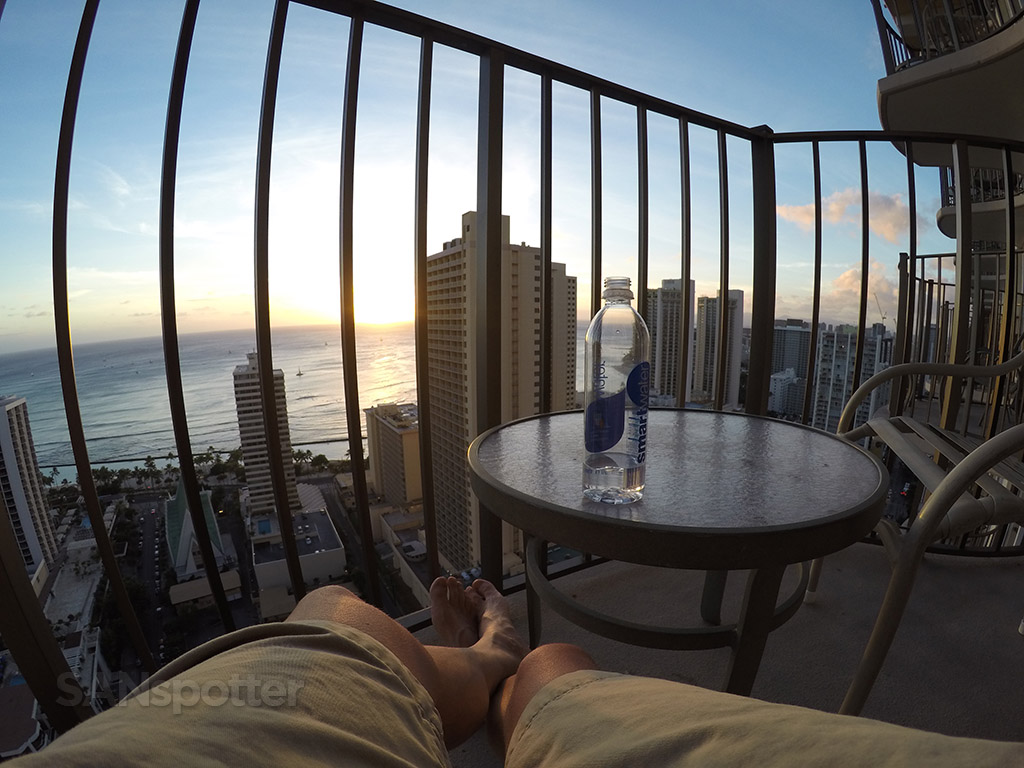 Day 2: Diamond Head (and being lazy afterwards)
I was awake by 7:30am, and things really started out great. I rolled out of bed, pulled open the curtains, and was presented with this:
Yes. This is why I love Hawaii! I stood and watched the view until the rainbow faded away, then jumped in the shower in anticipation of walking down to Island Vintage Coffee for an acai bowl.
I discovered this cafe on the final day of my last trip to Oahu, and the acai bowl I had at that time was more than enough to convince me to do it again.
Heck, I had no idea if they were still in business, but I made the walk anyway to find out. Luckily, they were still there and that acai bowl was as good as I remembered it to be.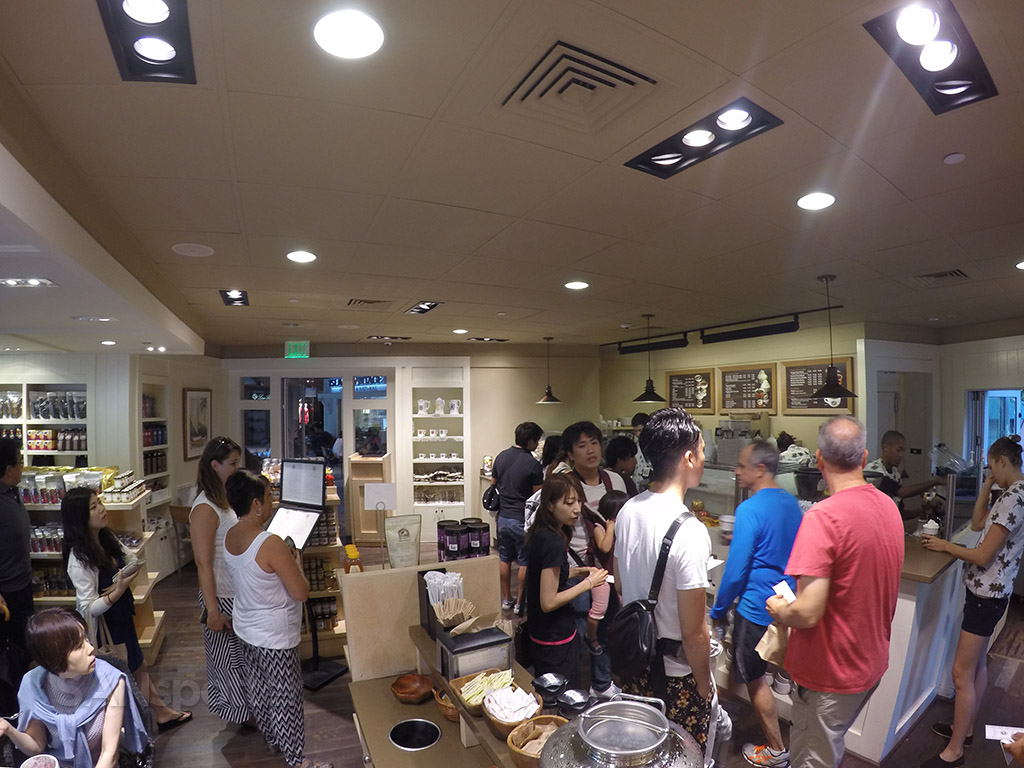 It was about 10am right after I finished breakfast, and I really had no idea what I wanted to do for the day. I had been thinking about walking over to Diamond Head a few days before the trip, but the research I did made it seem like it would take a big chunk of my day and I really didn't want to spend my only full day in Hawaii running around like a tourist.
But heck – it was only 10am, and I figured I could easily make it back to Waikiki by early afternoon, so…I went for it.
All in all, the trek to Diamond Head (and all the way up to the top) took about an hour and a half from Waikiki. It was quite a walk, and made even more difficult by the strong trade winds and hot temps. I definitely should have brought water with me, but oh well. I survived!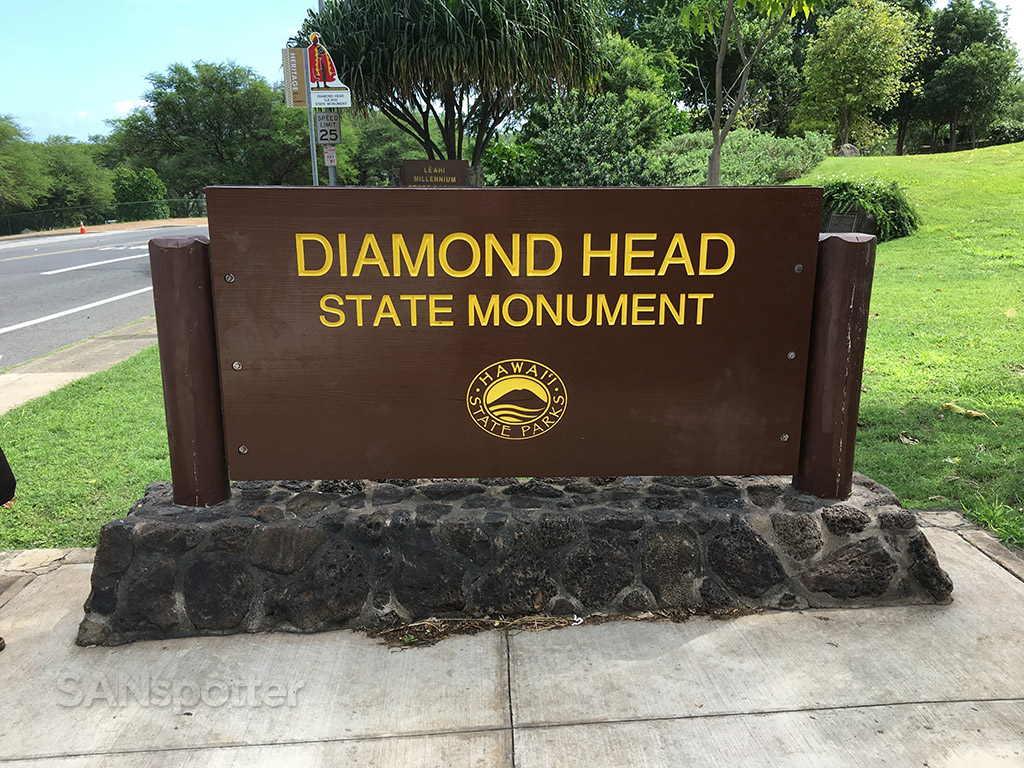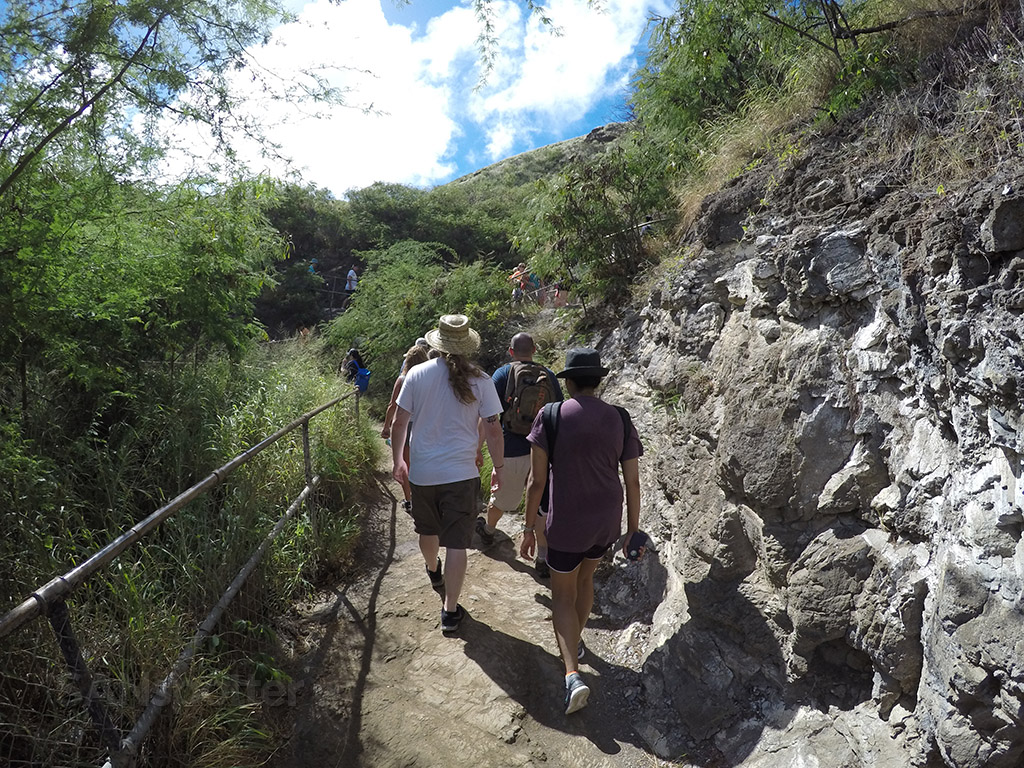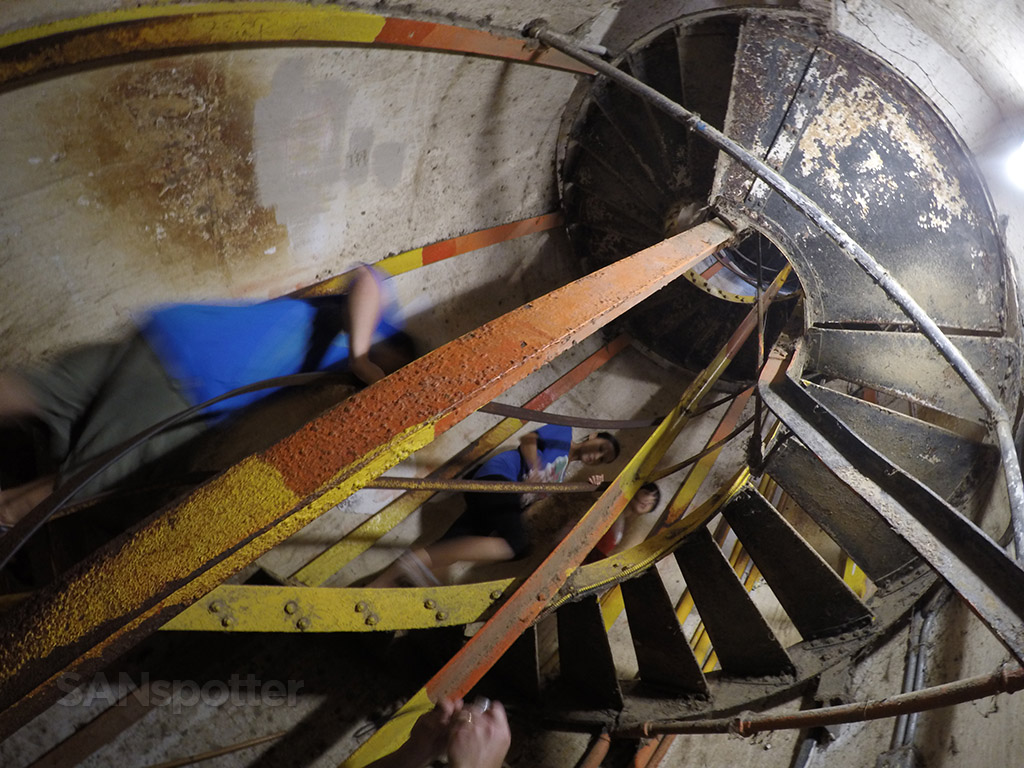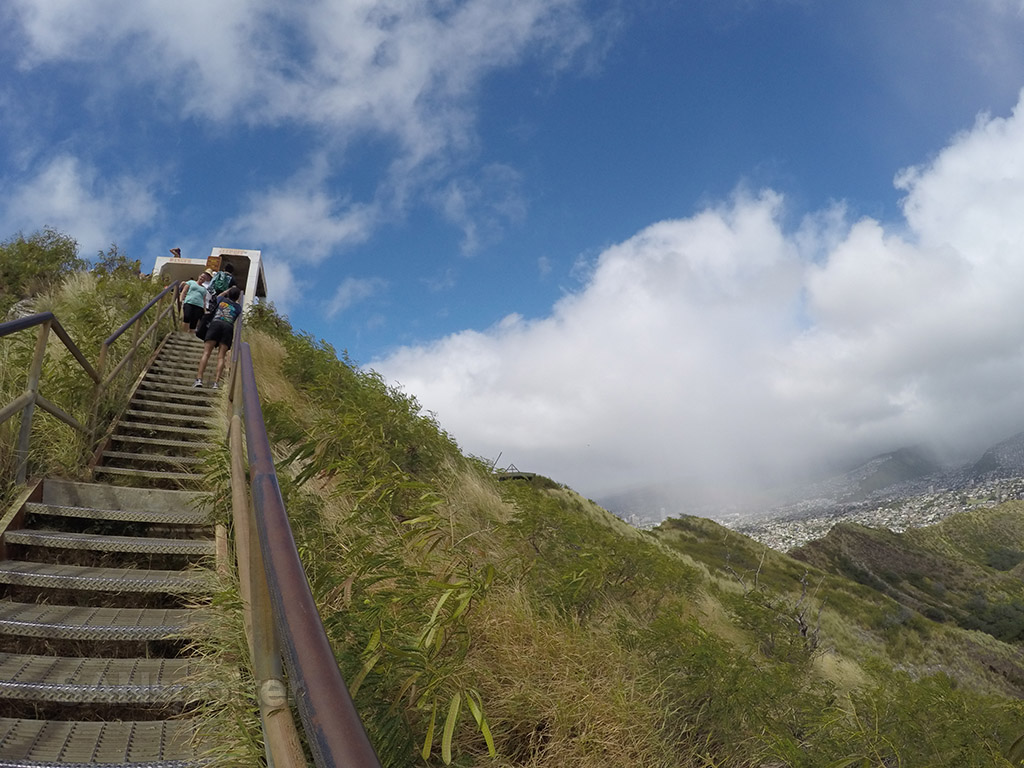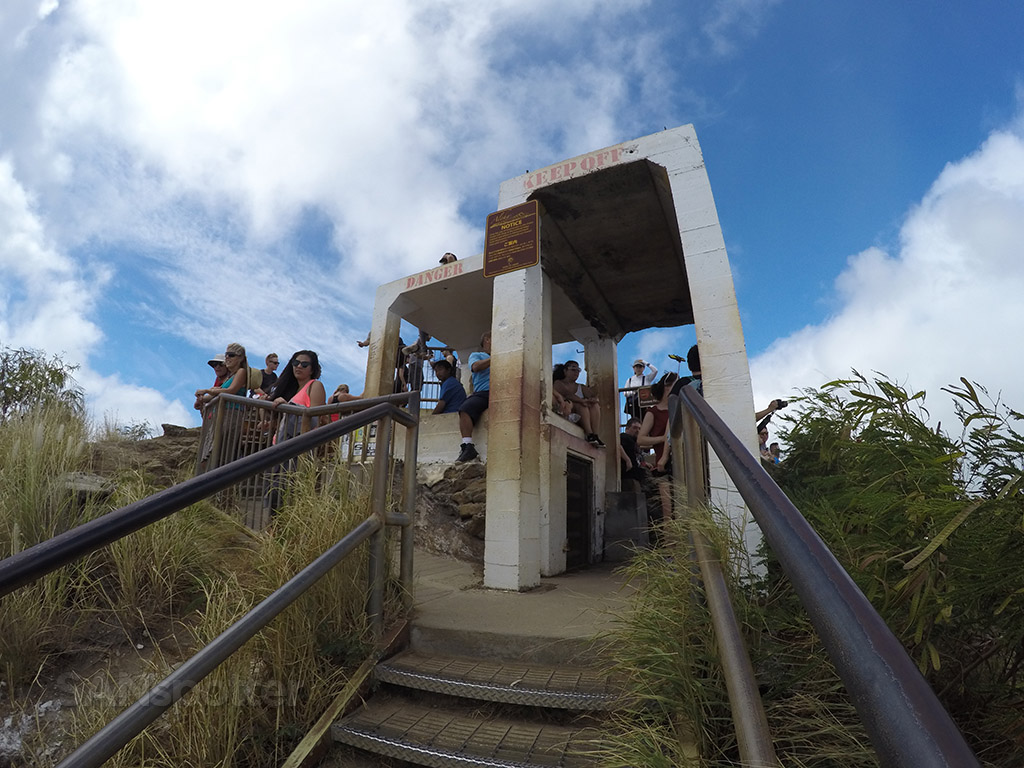 The walk back to Waikiki was much easier since it was all downhill, and I was sitting on the beach again by 2pm chugging a full bottle of fresh cold water I bought at an ABC store along the way. Yes, exploring Diamond Head was fun, but this vacation was all about chilling out and relaxing so I was much happier sitting on the beach.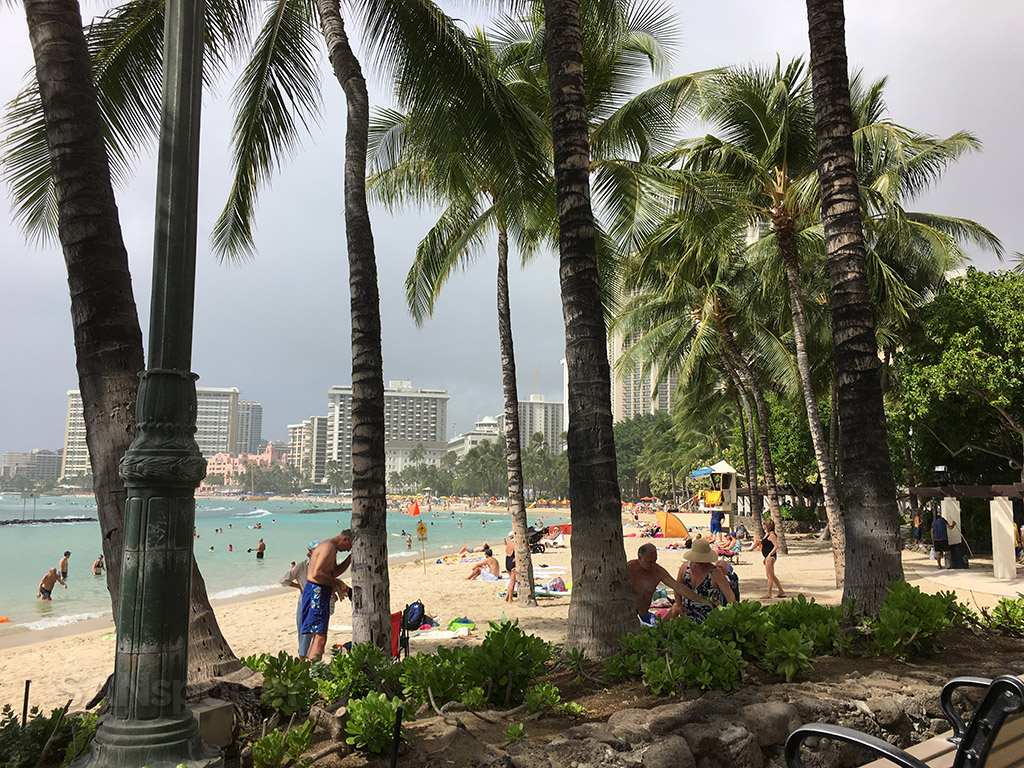 I did a bit of shopping in the afternoon, then returned to my hotel room to relax for a couple hours before heading out again in the evening to walk around for a bit and then find some dinner.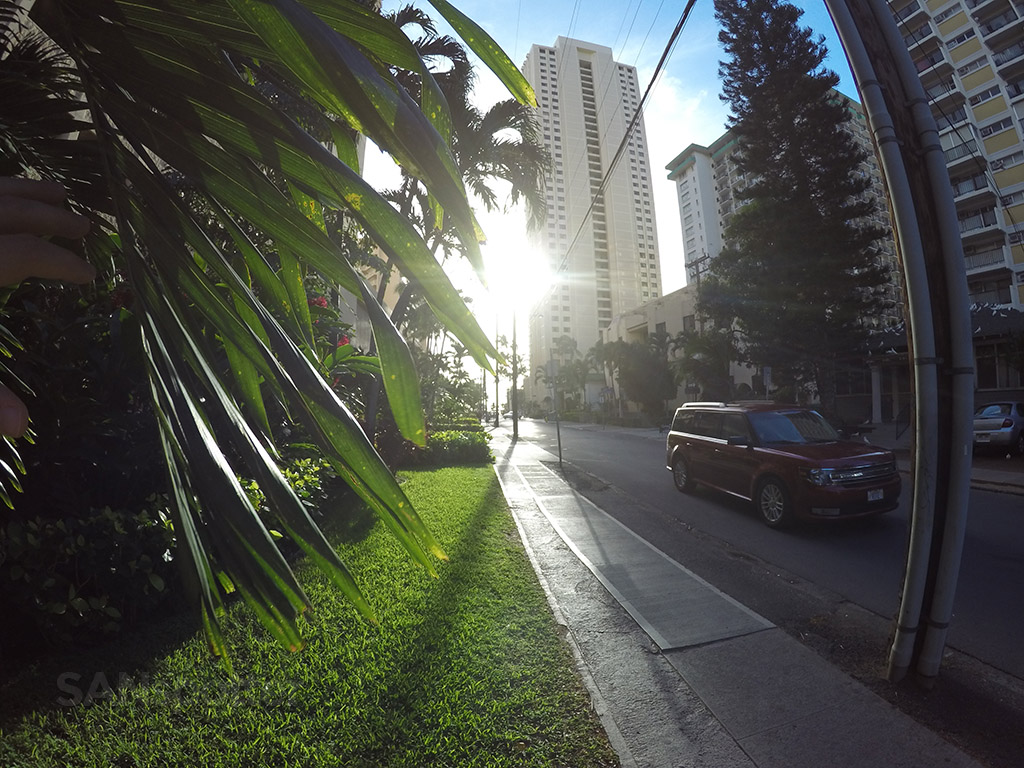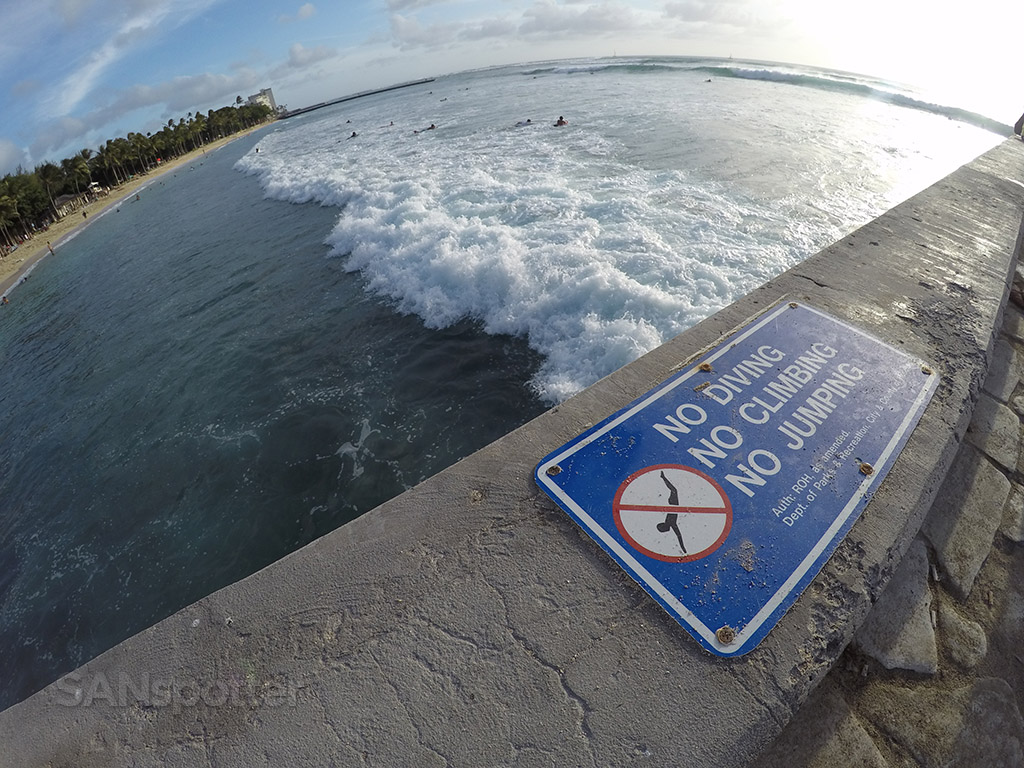 I'm normally a very healthy eater, and it's not often I pig out on junk food. But this day was a special occasion. I was on vacation, and I was craving a hamburger, so why the heck not?
A quick search on Yelp led me to Teddy's on Kapahulu Ave, which wasn't far from my hotel. I was planning on getting just a burger and fries, but…those burgers looked good so I ordered two of them.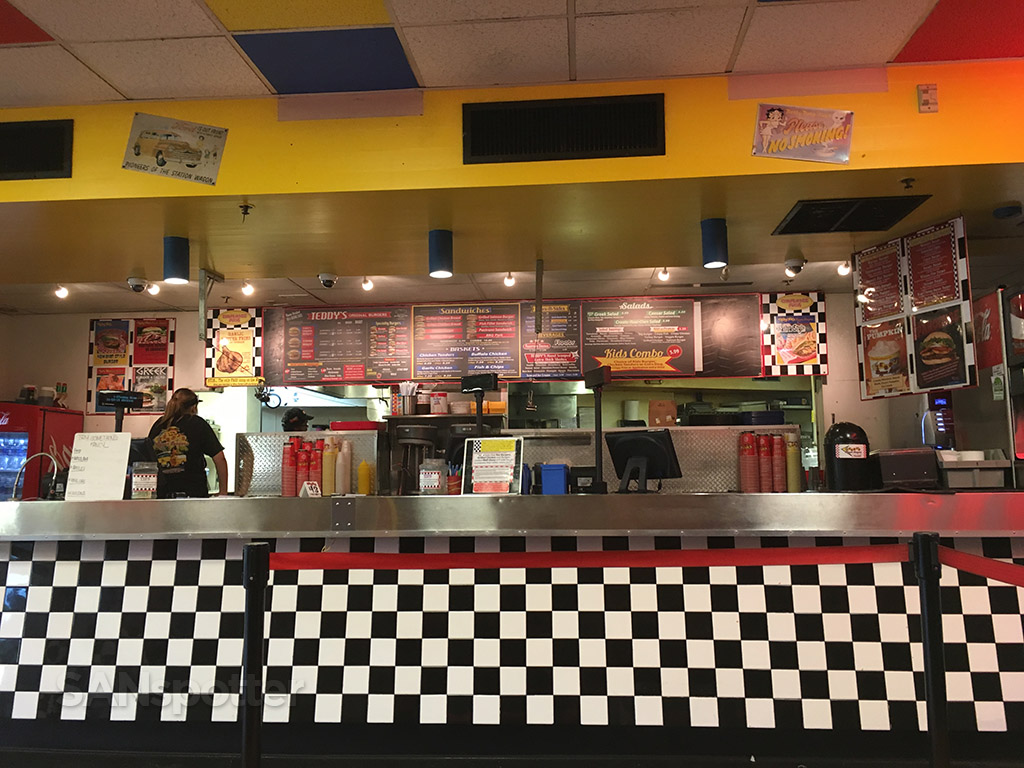 Long story short, the fries were cold and soft by the time I got back to my hotel room – so I didn't eat them. But those burgers. OMG. Two of the best hamburgers I've had in my life, hands down. I did over eat though…it was a lot of work to finish that second one but I did it.
The rest of the evening was a carbon copy of the evening before. Sitting on the patio, overlooking the city, enjoying the warm tropical breezes of Hawaii.
Day 3: Departure
Sigh. I woke up feeling really bummed that it was my last day and that I needed to check out of the hotel and be on my way to the airport by 12pm. I felt like I had just arrived, and that I hadn't really had the chance to sit and relax as much as I wanted to.
I desperately needed another day here, but sadly, it wasn't going to happen. I had to go to work the next day, and there wasn't really anything I could do about that. It was then that I started feeling disgust with the 9 to 5 lifestyle…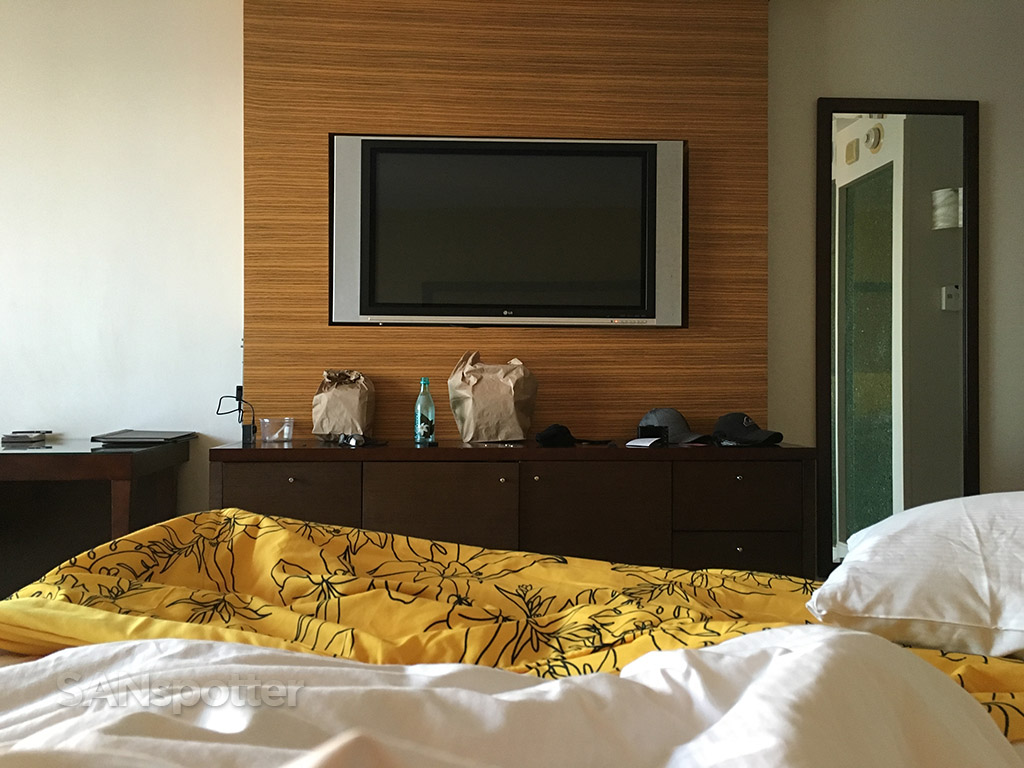 I got out of bed and cleaned myself up before taking a walk over to Vintage Island Coffee again (for an acai bowl, of course).
Despite the sore on my foot from walking everywhere in my sandals over the past two days, and the fact that I knew I had to go home today, it was hard to feel discouraged as I made my way over to the cafe. I love Hawaii. This place agrees with me – and I could definitely see myself spending a lot more time here.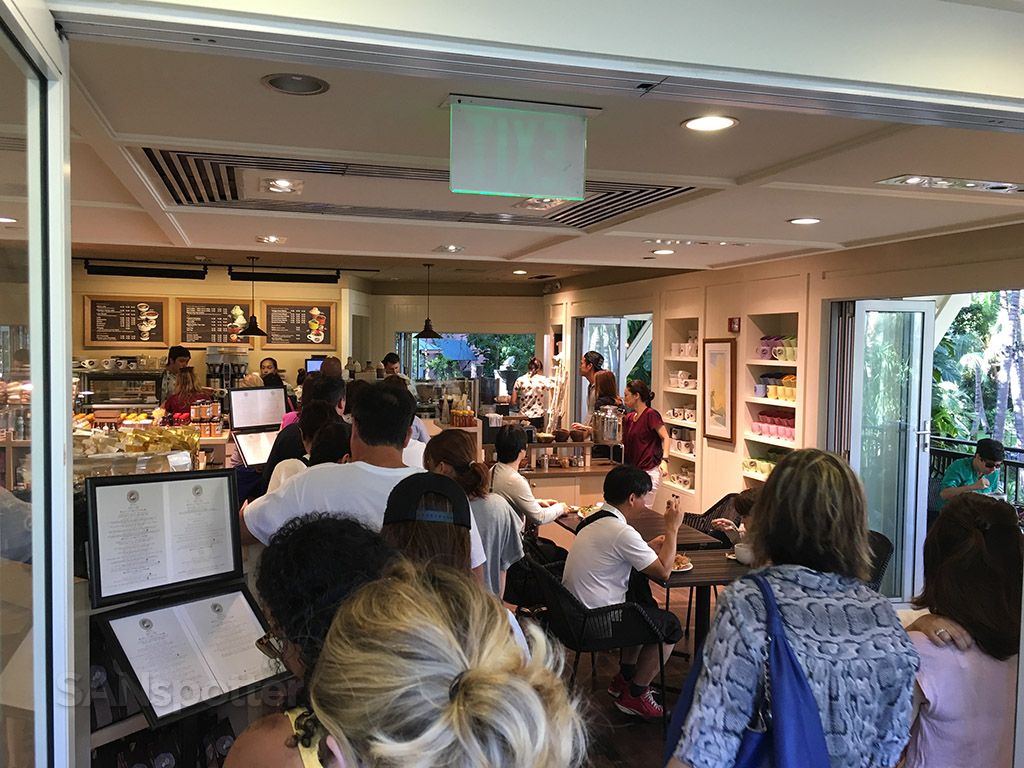 The cafe was much busier this morning compared to yesterday, so I got my order to go and walked over to the Moana Surfrider hotel just a few blocks away and sat in their open air patio to enjoy my breakfast.
This was the hotel I had wanted to stay at for this trip, but sadly, they were booked solid the entire time. Oh well – I will definitely stay there at some point, and it'll always be the first place I check when making reservations on Ohau.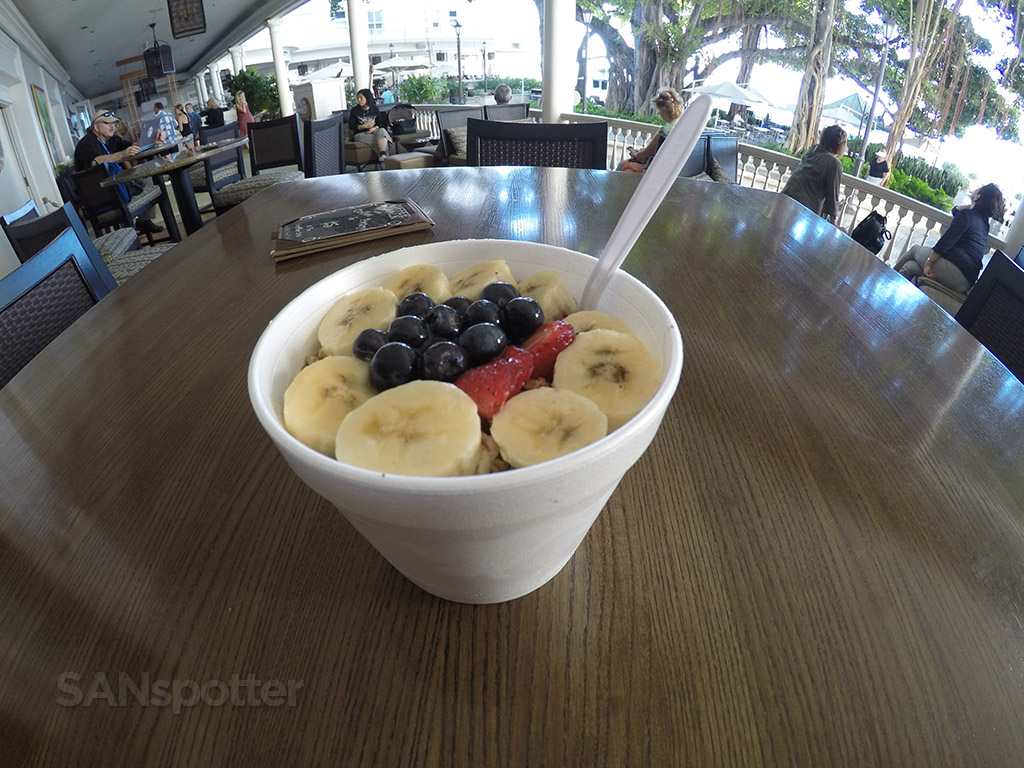 I took my time with breakfast, and then s l o w l y walked back to my hotel. I took a slight detour and spent about an hour on the beach just people-watching and thinking, and it was really difficult to force myself to go back to the hotel in order to get cleaned up and packed before the 12pm checkout time.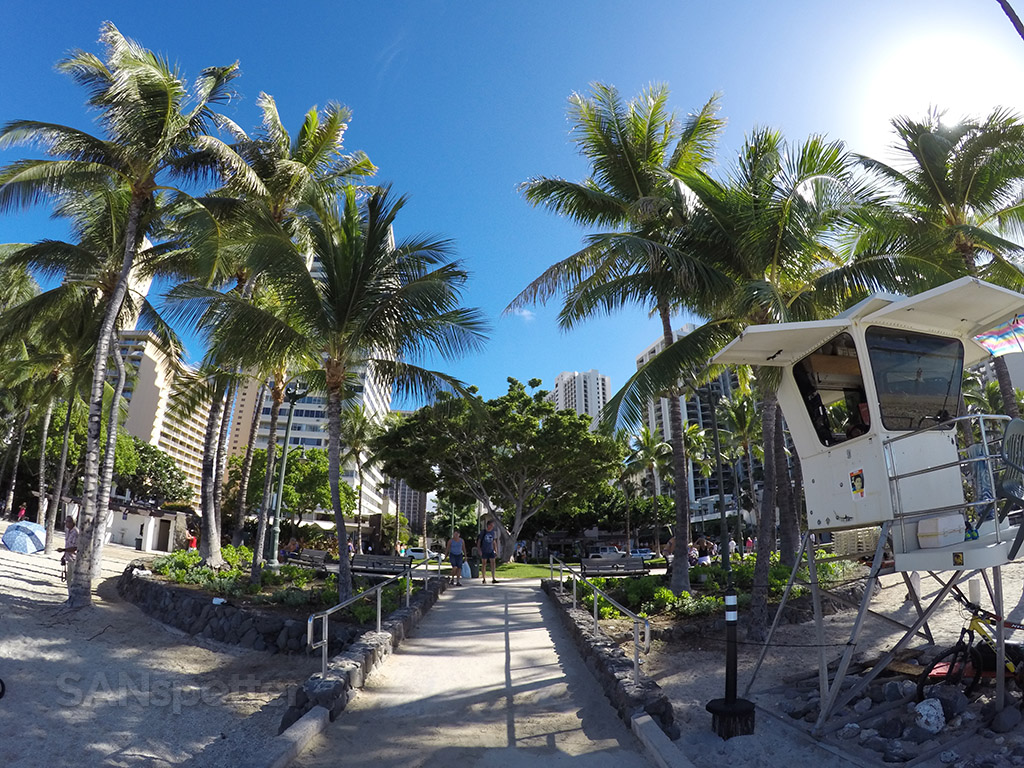 I really love Hawaii. Aloha, Oahu. Until next time…