Only 1 day in Doha? That's plenty of time to see the sights!
If you're an Instagram addict looking for things to do in Doha, you clicked on the proper article.
I recently returned from a 1 day trip to this amazing city feeling overwhelmingly sure that it's one of the most beautiful places I've ever been to. I cannot wait to go back and experience it again!
Um…I only went to Doha because I found a good deal on a flight
It's true. I'll go anywhere to take advantage of a good deal, as long as I can get there in an way which allows me to create interesting blog and video content. I'm also a photography nut (photography phreak?), so this trip to Doha was satisfying on so many levels.
Once on the ground, the beauty of Doha was so overwhelming that I couldn't resist capturing it in pictures. It was exactly the kind of trip I love so much. And it may have never happened if I didn't find such a good deal on the flights!
All of this is especially good news for you. How? Well, if you're looking for things to do in Doha in a short amount of time, I'm here to tell you that 24 is all you need to really see the place.
I love travel, and I love photography (I also love corn chips and salsa, but that's not exactly relevant so I'll save that for another post).
The point is that I love to photograph the places I travel to, and I've got very strict criteria for doing so. All you need to know is that these 5 Doha photo-spot ideas come straight from the brain of a photo-obsessed travel geek.
The best way to see Doha is to take a late afternoon walk down Omar Al Mukhtar St
One of the most interesting things about the city center of Doha is how sparkly and new everything is. The architecture is spectacular, and from what I saw, it's one of the cleanest and best-maintained city cores I've ever strolled through.
Omar Al Mukhtar St cuts right through the center of the downtown area, and it's a spectacular walk in the late afternoon when the sun is low and reflecting off all the glass and metal like a disco ball.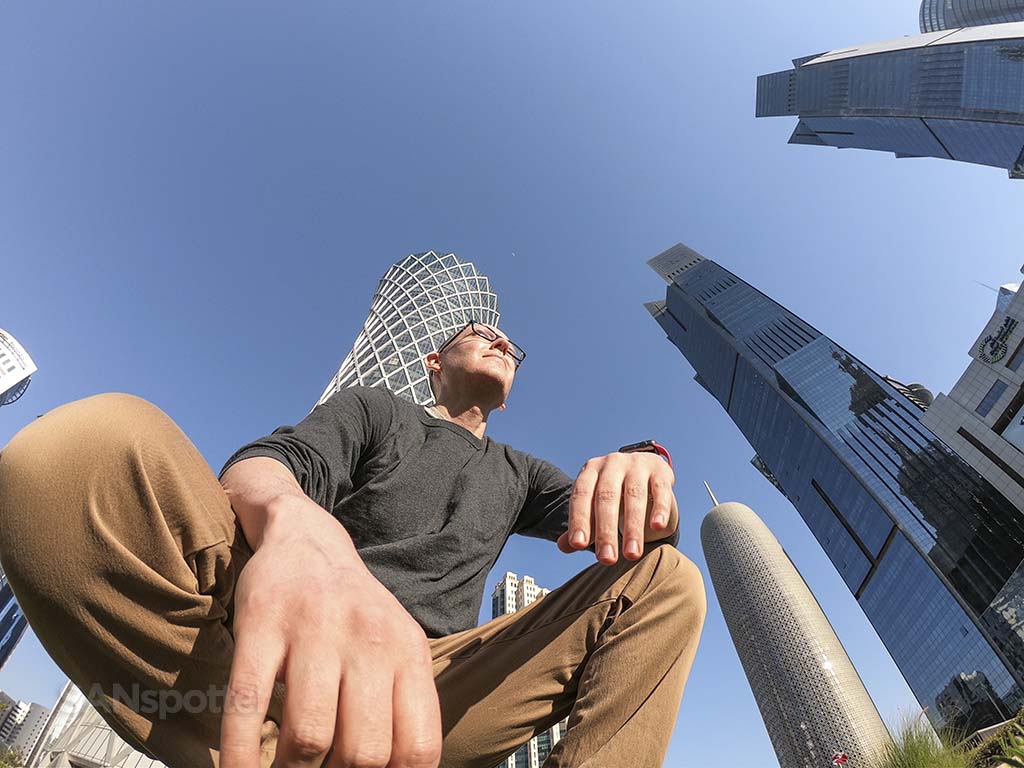 My best suggestion for this walk is to start at the Marriott Marquis Hotel (Omar Al Mukhtar Street, Area 61, Al Dafna, Street #850) and head south towards the waters edge stopping along the way to check out anything that strikes your fancy.
Oh, and just so you know: if you're a history buff who is looking for things to do in Qatar that are especially "old world", you're not going to be satisfied with this walk. All you're going to see is business people yammering and tapping on their mobile phones (as well as beautiful modern architecture). You've been warned.
Is 24 hours really enough time to see Doha?
Doha is an interesting place. It's a city rich in history and culture, yet you'd be hard pressed to see any of it while walking though the downtown corridor in between the glitzy steel and glass skyscrapers.
It takes a bit of work to uncover it's past, but once you start peeling away the layers, you're likely to find yourself becoming more and more enamored with Qatar both past and present. It's fascinating.
However – if I'm being completely honest, there isn't a whole heck of a lot of things to do in Doha. It's definitely not a destination where you could spend a week in and feel like you didn't see anything.
While vibrant and energetic, the footprint of Doha is relatively small (and much easier to consume than a first time visit to Dubai for example). 24 hours is more than enough!
It certainly has it's own style of charm though. I can't wait to return, phone in hand, bombarding all my Instagram friends once again with the beautiful sights.