Three tips to make your first trip to Zurich better than mine was
I recently went to Zurich. It was actually a "revenge" trip of sorts, as my first visit (many years ago) wasn't all that much fun thanks to the miserably cold weather. Which is unfortunate, since it's an amazing city with rich culture.
I'm happy to report that my most recent visit was much better. Yeah, it was cold, but at least I arrived prepared this time.
Now that I'm "experienced" on all some things Zurich, I'm chomping at the bit to give you some advice about how not to be like me and make sure that you get the most out of your next trip to this amazing city:
Do NOT go in the middle of winter
It was the middle of January first time I visited Zurich, and I'm going to be blunt: it was a miserable experience. With temperatures hovering just 1° above freezing the entire time, all I really wanted to do was stay inside and plan my next trip to someplace warm.
It was a struggle to get myself feeling like I wanted to go outside and do any sightseeing, and I really tried, but I gave up less than an hour into it. What a waste to travel all that way and not see anything!
Thankfully, the weather was much better on this trip and it was easy for me to spend an entire day walking around and checking things out.
There were also many more people outside enjoying nice weather as well, which made it a much more entertaining experience and made the city feel more alive and energetic then I remembered from last time.
I'd actually recommend going in May or September. I was there in late April this time, and the weather was so close to being perfect – but not quite as nice as I would have liked (a little warmer would've been better).
Avoiding the heat of summer and the freeze of winter will ensure that you'll have no excuses to not get out there and get your travel on.
Rent a bike for free and see more of the city
Yes, you read that right. All kinds of bikes (e-bikes, kids bikes, city bikes) can be rented for free in Zurich providing that you have a valid ID and 20CHF for the deposit. Note that this is limited to visitors only, and you can register at the main north or south bike stations.
As an avid cyclist myself, I found the city of Zurich to be very bike friendly and I wouldn't have any issues riding around on two wheels as my main mode of transportation (except in January). If you're a visitor on a very tight time limit, getting around the city via bike for free is the best way to do it!
Do a proper chocolate tour
Even if you don't like chocolate, you're going to have to bring back a few bars the stuff for friends and family as souvenirs. But who doesn't like chocolate?
I'm going to go right ahead and assume that you can't get enough of it (like me), so making sure you have enough time to visit some chocolate shops should be a mandatory part of your visit to Zurich.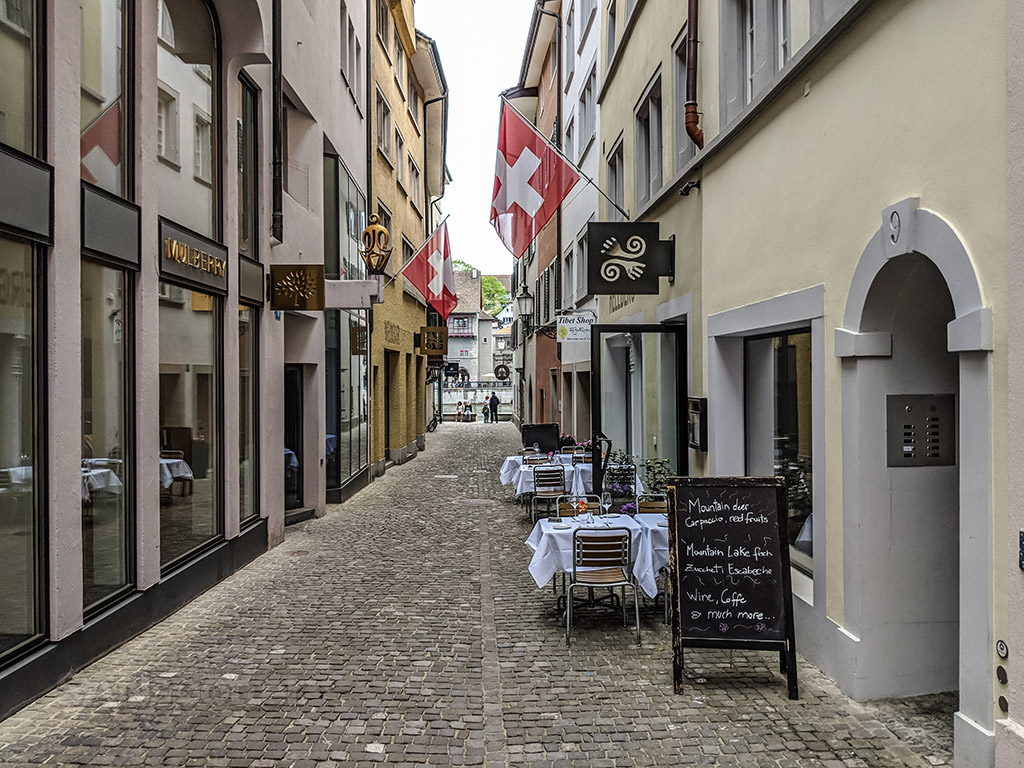 Unfortunately, I did very little research before my trip and I felt really lost once I arrived due to the sheer number of really nice looking chocolate shops and factories all over the place. It wasn't until the very end of my trip when I discovered a really good solution to this problem: an in-depth guided tour!
It was actually a hotel employee who told me about the Sweet Zurich tour just as I was checking out, and it sounded so good that I was kicking myself silly for missing the opportunity.
What's not to like about a very in-depth tour of some lesser known (but amazingly good) chocolate producers? Tours of large factories mass-producing well known brands of chocolate wouldn't be as interesting to me as something like this, and I'm totally going to do it the next time I'm in Zurich.
In conclusion
If there's anything that you can take away from this, it should be the fact that Zurich has a lot to offer and you're going to need to slow down a bit and make sure that you have the time to experience it properly (and don't go in January).
I'd recommend at least a week for first-time visitors, as that would be plenty of time to explore all the nooks and crannies while allowing for the opportunity to venture outside of the city limits a bit as well. Switzerland is an amazingly beautiful country, and it would be foolish not to head out into the greenery at least one day during your stay.
Focusing on the country is going to be the goal of my next trip to Switzerland. I feel like I've got a pretty good sense of what Zurich is all about now (finally!), but the Alps and I need to get acquainted in a very big way. I'll bet there's some amazing chocolate out there in the hills as well…